We had a total of 14 runners and walkers turn out for the Criffel Hill race, at tough race which is well known for one of the muddiest in the Scottish Hill Running Championship. At the top we had low cloud with the marshals having to shout some runners to keep them on track. Alan Creighton returning from illness with the aid of Bob the rescue dog kindly acted as sweeper for the race. Results as follows.
Pos Name Class Time
13 ... Kevin Plummer M50 1:08:17
16 Martin Coopland M40 1:10:01
18 Graeme Scott M40 1:11:11
21 John Robson M50 1:12:15
42 Nigel Priestley M50 1:23:20
43 Barbara Dawson F 1:25:53
49 Jean Robson F50 1:52:27
Sweeper Alan Creighton.
Roger, Yvonne, Billy, Michael, Janet and Alan Cameron walkers.
Well done everybody.

Please see this year's Hill Running Championship Races.
The best of 8 races from 12 to count, 2 points if you marshal or
time keep for any event, to maximum of 6 points. Club vests to
be worn at all none-ADAC events no vest no points. Lets hope to
build on last years performance where at local hill races ADAC
runners were making up a 3rd of the field.
Happy running everybody.

Please note Durisdeer, Langholm, and Tinto races are enter on
line only, I would suggest you get in early if you plan to run
these races.




Criffel 10k 22nd March Start 13:00.



Screel 6K 11th April Start 13:00.



Hartfell Horse Shoe 16k 30th May am Start.



Durisdeer Hill race (British Champ' event) 13th June 12:00 start.



Langholm trail race 1/2 Marathon 20th June 13:00 start.



Stag to Hind hill race 6k 30th July 7:00pm Start



Philiphaugh Hill Race 11k 16th August 11:00am Sta

rt.



Auldgirth Blackwood 10k TBA.



Devils Beef Tub 3k 5th September 12:00am Start.



Merrick Hill race 12k 20th September 13:00pm start.



Manor Water Hill race 16K 10th October 13:00pm start.



Tinto Hill race 7k 14th November 14:00pm start.


Well the new Hill Running
hill running season is on us again,
The first race will be Criffel Hill race on Sunday 22nd, yes this Sunday. The race starts at 13:00pm.
Here is a message from Ranjit :- Entry £5, all proceeds go to Moffat Mountain Rescue. Entry only on the day, entry opens 11 am.
Mandatory kit- full body water proof cover, including hat and gloves, whistle, map and (functional) compass with ability to use them.
The Second race of the Championship is Screel on the 11th April, we plan to have a reccie run of this for new hill runners before that date.
I will post the full season of race before the end of the week.
2014 Hill Running Champions Are:-
Barbara Dawson and Rory Longmore.
Well done to both who scored Maximum points.
In a fantastic Hill running Season Barbara and Rory are the Champions both beating all other ADAC runners in the 7 races they entered. Kev and Janet were second in there relevant Championships with Jean and Gordon coming third. We had a total of 24 ADAC athletes compete in the 10 races which make up the Championship. A special mention to Alan Creighton who was the only one to run in every race.
In the Dumfries and Galloway Hill Running Championship competing against other clubs in our region Barbara won the ladies title, Rory the V50 and Jean the ladies V50.
Well done to everybody involved.
AME

LADIES

CRIFFELL

SCREEL

HARTFELL HORSE

SHOE

LANGHOLM 1/2M TRAIL

DURIS

DEER

HIND HILL

CAPEL FELL

DEVILS BEEF TUB

MERRICK

MANOR WATER

OTHER RACES

TOTAL

Barbara

Dawson

10

10

10

10

10

10

10

70

Janet

Priestley

10

8

10

10

8

8

7

2

63

Jean

Robson

8

8

7

8

7

2

40

Lynda

Minto

8

8

Liz

Dawson

8

8

Denice

Lindsay

6

6
NAME

MALE

CRIFFELL

SCREEL

HARTFELL HORSE

SHOE

LANGHOLM 1/2M TRAIL

DURIS

DEER

HIND

HILL

CAPEL

FELL

DEVILS

BEEF

TUB

MERRICK

MANOR WATER

OTHER RACES

TOTAL

Rory

Longmore

10

10

10

10

10

10

10

4

74

Kevin

Plummer

8

8

8

8

8

8

10

2

60

Gordon

Vivers

2

5

10

7

6

7

8

45

John

Robson

7

8

6

10

7

2

40

Nigel

Priestley

0

3

6

6

0

3

5

5

5

33

Alan

Creighton

0

5

0

4

4

0

4

2

6

6

2

33

Johnny

Minto

0

2

5

2

5

7

7

2

30

Peter

Rogerson

6

7

6

7

2

28

Martin

Coopland

5

4

8

8

25

Oliver

Wilson

4

6

5

2

15

Roger

Irving

2

2

4

2

8

Chris

Palmer

7

7

Graeme

Scott

7

7

Michael

Kerr (Ju)

6

6

John

Green

5

5

Alan

Cameron

2

2

4

Mark

Walton

4

4

Craig

Palmer

3

3
Manor Water Hill Race 11/10/14
There was a good turn out of ADAC athletes for the Manor Water Hill Race near pebbles, the last of this year's Championship Races. The men's
Champion Rory, had already accrued enough points to not need to race to win outright, With John Robson and Gordon not at the race due to holiday and
injury respectively, that handed 2nd place in the Champs to Kev Plummer. However the Ladies Championship would be decided on the day, Janet would
need a co nvincing win over Barbara to secure an overall win, as Jean was on holiday this handed 2nd place to either Janet or Barbara. We also had a new
lady racing for ADAC too at Manor Water Liz. In the junior race Michael was running for us.

The weather was perfect, with bright autumn sunshine and the underfoot condition firm despite rain in the last days before the race, the long spell of dry weather meant there was not too many really muddy parts.

The race started after a kit check of all participants, the kit check is now routine before any hill race in the SHR calendar. The race starts with
a run up a grass field not too steep, before you turn onto the road for 100 meters then onto a muddy farm track; you are steadily climbing all the way.
At the end of the track you climb a stile over a stone wall and take a 90 degree left turn, you are now on to the moor and running on either a small
single track or a quad track. Off the track you are on to heather. There is no real chance of getting lost as you have a wall on your left and you
follow this all the way to the top of the hill. The course to the top is undulating with a couple of descents before you climb again, apart from the
climb up to the last summit all the climbs are runable by a good fell runner, the last one is walked by most. After that it is a fast run back to
the finish.

I started my own race with some trepidation as only 6 days before I had ran the Chester road marathon, the only issue I had was a hamstring pull which
I thought had cleared up before the hill race. I started my race just behind the leading runners and found young Michael running beside me across
the field to the road where I pulled ahead, I found myself breathing hard but stuck with it, dropping a back a bit on the farm track from the
leaders. All was well until the first descent, almost as soon as I started coming back down I felt my hamstring pulled OK a bit of dilemma do I pack
in and abandon the race or do the sensible thing and race on regardless??? Of course I raced on. The hamstring stopped me from really striding out on
the down hills but didn't prevent me from climbing as per normal. I found myself racing with Adam Anderson, an Irish girl who was racing to catch the
first place lady ahead of us, and another V50 runner, the 3 of us swapped places during the first half of the race. Adam reached the summit just in
front of me but he pulled away once we started heading back down, then the 2nd place lady got pass me, I reeled her back in on the climbs, the other
V50 runner was only a bit behind. Adam pulled a out a big gap from me and the other 2 runners.

At the top of the last descent I was meet by young Michael who after successfully winning the junior race by a good margin had run back out to
meet me, I asked him "how far the other V50 runners was behind?" he said "50 meters" "come on we need to get a move on" I said. We picked it up a
gear and I ran as fast as I could without totally trashing my pulling hamstring, we passed the 2nd place lady again and seemed to be gaining on
the 1st place lady, in doing so we started to pull away from the other V50. Michael took a little tumble going though a very muddy bit, by the time he
was back to his feet after shouting he was alright I had left him behind a bit. I crossed the line comfortably ahead of my rival to snatch 3rd in the V50 class.

Liz on her first SHR hill race did one better and took 2nd in the FV50, Janet got 3rd FV50, while Michael as already mentioned won the junior race.

Barbara was first ADAC lady home in doing so became the ADAC Champion, leaving Janet Second in the Champs' and Jean third.

I came 2nd, and Gordy 3rd in the men's Championship.

Merrick Hill Race
There was a good turn out of ADAC hill runners for the next Hill Championship race at Glentrool, The Merrick Hill Race. This years race was held in warm sunny conditions I know a lot of us opted to carry water bottles on this year race. For this years race the course had to be changed due to forestry work and the construction of a new deer fence.
The new route which follows the tourist path to the top of the hill and back was to prove a considerably quicker than the old one route. The route was 8 miles long and takes in 2700ft of climbing. Rory was the first ADAC runner home in 5th overall place and first in the V50 class, while I was only one place behind him at the summit I lost a place coming back down so finished 7th overall, with a good run by John Robson thrown in this was enough to win ADAC the team prize over local rivals DFS running club.
Barbara had yet another good run which enabled her to take second place lady again, for the second time in the last two hill races she has entered. Janet was first in the F45 class and Jean first in the F55 class.
Roger although not fit enough yet to run the race turned up to walk the course and support us all.
All in all an excellent day out for the ADAC hill runners, especially well done to the ladies.
Merrick Hill Race Results 21/09/14.
Race No

Name

class

club

time

POS

ADAC

points

99

Longmore

Rory

M 50+

ADAC

01:18:42

Vet 50+

10

91

Plummer

Kev

M 50+

ADAC

01:20:45

8

95

Robson

John

M 50+

ADAC

01:35:49

7

92

Dawson

Barbara

F 35+

ADAC

01:42:40

2nd Female

10

79

Priestley

Janet

F 45+

ADAC

02:00:00

1st Female

8

86

Creighton

Alan

M 50+

ADAC

02:00:04

6

93

Walker

Kerry

F

DFS

02:00:14

n/a

96

Patterson

Kenny

m 60+

Unattached

02:04:03

n/a

78

Priestley

Nigel

M 50+

ADAC

02:07:38

5

94

Robson

Jean

F 55+

ADAC

02:28:02

1st Female

6
The Big one, The Ben Nevis Hill Race 2014.
Three club members made their way to Fort William to compete in what has been called the FA cup final of Fell/Hill races, the Ben Nevis Hill Race. Entry to this race is strictly limited to 600 runners, the places fill up on the day enries open. Once the race commences there are time limits on parts of the course which competitors have to reach or they are timed out for being too slow.
At 7:00am on 6th September myself, Rory, Peter, Olly Rogerson and former ADAC member Ranjit left Beattock to head north. We stopped at the "Green Welly Café" for breakfast before we arrived in Fort William with plenty of time before the 1:00pm start. After we had registered we met up with some Dumfries Running Club Members, Craig, Sebastian and Mo and, after a chat, me and Rory were tempted by bargain priced new Fell shoes from Peter Bland's trade stand, which sets up at most of the big Fell Races. We had plenty of time for warming up and toilet calls before 1:00pm.
Just before 1:00pm we all had to make our way to the starting stalls following the pipe band. To gain access to the start we had to hand in a red plastic token which were given to us at registration. On all our wrists we had a band again given to us at registration which was to be handed to the marshal at the summit of the Ben.
This year I positioned myself with Rory towards the front of the pack. In past years I went to the middle of the pack only to find myself hindered by slower, or at least slower road, runners at the start of the race. The race started with a crack of the starting pistol. Once round the stadium then out onto the road. There was much jostling and at least one runner hit the deck during the first lap of the track. Once on the mile of tarmac road which leads to the start of the climb proper of the Ben, I settled into my road race pace, consistently picking up odd places. Once onto the Tourist track which forms this part of the race route and off the tarmac we were now climbing. I worked as hard as I dare without blowing a gasket, picking up more places. At one part the course splits into two; one a direct climb the other a more steady climb up to the same place. I took the right turn for the steady climb as the first path seemed jammed with runners. It was then I saw another path going up though the ferns, a more direct route, and this seemed to be a middle way. Above me I saw Alan Smith, a very experienced and capable hill runner on this path. If Alan was on it, it won't be a bad route so, as there was little traffic on it, I opted for this way to climb up. Once I had broken out of the ferns I was back on the main path again trying to keep moving up the field. At this point I didn't know where any of my club mates or DFS running club members were - I was certain I was ahead of Rory before the routes split but had he passed me or had I gained a bigger lead? I didn't know.
I heard a shout from above me "Well done Kevin". I looked up and saw a chap in a DFS running club jacket. I asked "Where are the DFS lads?". "Behind you" he said, "Good" I shouted back and he laughed. The route next turns away from the main path and takes a direct line heading for the Red Burn which is about the half way mark in the climb and the first time check to reach before you are timed out, but I was moving so well that I had no chance of this. Although I was starting to struggle a little now and was losing a few places, upon reaching the main path again I filled my empty water bottle from the burn to drink on the next part of the climb (I carried it empty to keep the weight carried down and I knew I would not need a drink in the first 45 minutes).
After the burn you could head off the main path immediately and start climbing up hard. While at the start of the race it is possible to run a lot of the climbs, from now on it would be hands on knees gasping for breath as you power walked upwards. I had a Gel and a couple of small pieces of Kendal Mint Cake as I climbed, struggling to hold my place in the race.
After a while I looked back and could see Rory about 50 metres below me. I shout down at him "What kept you? Take a wrong turn?" "No" he replied "but I will get you Plummer" I laugh and shouted "I don't doubt it". Rory is a better 'climber' than me so I felt sure he would catch me but I was going to make him work for it! I toiled as hard as I dared without blowing up on the never-ending trudge to the top. By about 3,000ft the low cloud had reduced the visibility. Into the mist we trudged.
Eventually Rory caught and passed me, but I kept him in sight. Once the climb slacked for a little I was able to run again and get back in front but it wasn't for long as he over took me again. I made the top in 1:24 minutes, as I handed in my wrist band to the marshal I turned to a competitor alongside me and said "Now the race begins!". On this cue I set off as fast as I could. The terrain on the top is rocky and requires good 'bolder-hopping technique' as you leap from rock to rock picking the ones to go over and the ones you hand on top of before looking for the next landing. I passed Rory with my after burners at full throttle. It was difficult at times to pick your way past slower runners going back down and other runners that were still climbing. I jigged and rugby side-stepped my way though the crowded throng. I followed another runner called Scott. I knew he must have been a local lad because so many people called his name on the way up. He was as quick as me but took a different line to most of the other runners. I followed and asked "Is this right?" he said "Yes, have you done this race before?". "Only once" I answered. Following him down we caught two Lochaber runners (the local hill running club). The club runs the Mountain as a practice once a week, and so I figured that we must be on a good line.
As I tried to get past one of the Lochaber lads the rocks and scree gave way under my feet causing a mini avalanche which took the ground away under the other runner. He crashed to the floor. I jumped over him and as I did so I shouted "You ok mate?". He said he was.
After a while the rocks, boulders and scree turned to grass. We were now on the infamous "Grassy Bank". This part of the course is unsurprisingly a very steep grassy bank, which in parts turns to mud. To complicate matters the ground is uneven with many a hole hidden in the grass. The first part is above the tourist path, you then cross the path onto the main bank and it was on here that I put my right foot into a hidden hole while running at full pelt; I heard a crack from my ankle and thought that's not so good.
I stopped briefly to have a look. It seemed OK and the pain wasn't too bad. Crack on then I thought - no pun intended. Through gritted teeth I came down the bank quite a bit more slowly then before. I lost 3 or 4 places as I tried to keep my right foot from dropping into any more holes and doing more damage. Considering the loud crack it gave out it was still working surprisingly well. Eventually the bank comes down to a burn which I managed to cross without getting my feet too wet, then I climbed back onto the main path. Once on the path I could run well; my ankle still hurt a bit but I could run more or less at full speed again.
Dodging past walkers who had picked the best (or the worst) day to climb up the mountain - depends on your thoughts of doing it when 500 of the fittest mountain runners from the UK and all over the world are doing it at the same time. Whether this inspires people to what is humanly possible or discourages the individual depends on their personality I guess. The winner of the 2014 race runs the course in 1:34 minutes taking only 34 minutes from the top to run to Fort William. The recommended time for walkers from the visitor centre at the bottom of the Mountain is 5 to 7 hours. I know of one group from an Essex 'boot camp' taking over 10 hours! Inspired?
Now the number of runners had thinned and at times I could see nobody in front of me. All those climbing, even the slowest, were above me and the main middle of the pack runners were coming back down behind me. I kept working away picking up the odd straggler and then I made it to the tarmac road. This is dreaded by a lot of the Ben Nevis hill runners; it is over a mile of tarmac back to the town and can play havoc with the legs. But I did not dread this bit; I knew from previous races that it would cause me few problems. While some hill runners, as a badge of pride, only run hills and to be fair even more road runners resolutely only run the roads, I do both. This enables me to keep the pure speed that running on the road gives you. I overtook, well flew past, two Lochaber runners in the blue and white stripped vests. "Bloody good running mate" one shouted, adding "You will catch them" talking about a small group of 4 runners ahead of me; 3 from their club and one other. I thought, too right I will, and I did. Pushing on I caught another lone runner. That was 7 places picked up on the road. I could see one more lad ahead, but I knew there was not enough road to catch him before the finish - it wouldn't stop me trying mind.
At the end of the road you turn into the sports stadium again. One lap of the stadium grass running track and into the finish. As we reached the turn a mate of the lad in front shouted from the track side "Get moving the chap behind will catch you," I smiled at his mate and laughed inside as I knew that was not going to happen and shook my head while he laughed too. It is all part of the game to keep his mate working as hard as he could to get a better time.
Once onto the running track I checked behind me. Nobody in sight, just the lad a long way in front. All to push on for was a good time. I kept at the job in hand, the crowds lining the track cheering me on, into the finish taped funnel and over the line in 2:04, smashing my personal best by 8 minutes. I had again completed arguably the best, most brutal fell race in the UK. While others are longer, none have the simplicity of 'The Ben'; straight up and down the biggest mountain we have, first home is the winner!
Then the thought process begins. 'If only'. The turned ankle must have lost me at least 2 minutes and that is so very close to the 2 hours. If I get a bit fitter could I crack the sub 2hr Ben???? Who knows maybe next year with a taper as a target race???
I headed trackside to cheer my club mates on as they made it back to the finish. All the Annan and District Athletic Club and Dumfries Running Club members make it back safe and my club mate Rory just pips Craig from DFS making it a 1-2 for us from South West Scotland.
I went and put the ankle in the river Ness to take down the swelling and walking back to the car I bumped into the second place lady. I remembered her as she passed me near the top. We talked about the race as we walked. At the car I bandaged up the ankle to give it support and some slight bruising came out. I figured I would be running the roads again in two days, and I was.
All that lay ahead was the long drive home and a stop at the Green Welly café for a refuel. I seemed to drink no end of fluid to get back to my hydration levels on the way back. By 8:00 pm we were home; another adventure over.
My thoughts turned to next weekend's fun duathlon - there is always another challenge.
THE HILL RUNNING CHAMPIONSHIP TABLE.
Rory is leading the Mens Championship by a good
margin, it is close for second between Kev and Gory with Gordy on 45 points and Kev in third with 42. In the ladies it is between Barbara and Janet with Barbara just holding a slight lead of two points. Jean is in a clear third place. With two races to go only Rory can relax every other place in the championship is up for grabs.
Please check your results on the table and remember if you have done any other fell races that are in the FRA or SHR calendar and ran it wearing your ADAC vest you are eligible for 2 extra points for that race up to a max' of 3 races.
NAME

LADIES

CRIFFELL

SCREEL

HARTFELL HORSE

SHOE

LANGHOLM 1/2M TRAIL

DURIS

DEER

HIND HILL

CAPEL FELL

DEVILS BEEF TUB

MERRICK

MANOR WATER

OTHER RACES

TOTAL

Barbara

Dawson

10

10

10

10

10

10

10

70

Janet

Priestley

10

8

10

10

8

8

7

2

63

Jean

Robson

8

8

7

8

7

2

40

Lynda

Minto

8

8

Liz

Dawson

8

8

Denice

Lindsay

6

6
NAME

MALE

CRIFFELL

SCREEL

HARTFELL HORSE

SHOE

LANGHOLM 1/2M TRAIL

DURIS

DEER

HIND

HILL

CAPEL

FELL

DEVILS

BEEF

TUB

MERRICK

MANOR WATER

OTHER RACES

TOTAL

Rory

Longmore

10

10

10

10

10

10

10

4

74

Kevin

Plummer

8

8

8

8

8

8

10

2

60

Gordon

Vivers

2

5

10

7

6

7

8

45

John

Robson

7

8

6

10

7

2

40

Nigel

Priestley

0

3

6

6

0

3

5

5

5

33

Alan

Creighton

0

5

0

4

4

0

4

2

6

6

2

33

Johnny

Minto

0

2

5

2

5

7

7

2

30

Peter

Rogerson

6

7

6

7

2

28

Martin

Coopland

5

4

8

8

25

Oliver

Wilson

4

6

5

2

15

Roger

Irving

2

2

4

2

8

Chris

Palmer

7

7

Graeme

Scott

7

7

Michael

Kerr (Ju)

6

6

John

Green

5

5

Alan

Cameron

2

2

4

Mark

Walton

4

4

Craig

Palmer

3

3
The Devil's Beef Tub Race Report.
We had a team of 7 runners compete in this years Devil Beef Tub Hill race, a short but tough race that starts and finishes in the bottom of the Beef Tub just north of Moffat, you would have never have guessed. As well as the 7 runners we had Yvonne and Caroline taking photos. There were also 3 friends of ADAC in the race, old ADAC member before he headed off to Glen Coe Dan Watson, Kerry Walker from DFS running club and Kenny Paterson. The weather was great for this 3.2Km race. First ADAC runner home in 7th place was John Robson to claim 1st prize in the V50 class, a excellent run by Barbara saw her secure the 2nd place in the ladies class only 7 seconds behind the winner, next home was Gordy he was 2nd in the V50 class. It was close with only 1 second between Johnny and young Michael, Michael got 1st Junior. Despite a fine climb out the tub to the monument by Janet her husband Nigel managed to over take her latter in the race. Only to be overtaken by Johnny doing some fine descending on the last down hill to the finish.
| | | | | |
| --- | --- | --- | --- | --- |
| Points | Name | time | Pos' | Class |
| 10 | John Robson | 28 14 | 1st | MV50 |
| 10 | Barbara Dawson | 30 59 | 2nd | FS |
| 8 | Gordon Vivers | 31 46 | 2nd | MV50 |
| 7 | Johnny Minto | 35 11 | | MV40 |
| 6 | Michael Kerr | 35 12 | 1st | MJ |
| 5 | Nigel Priestley | 35 21 | | MV50 |
| 8 | Janet Priestley | 37 44 | 1st | FV50 |
| 4 | Alan Creighton | 38 22 | ADAC | MV50 |
| | | | | |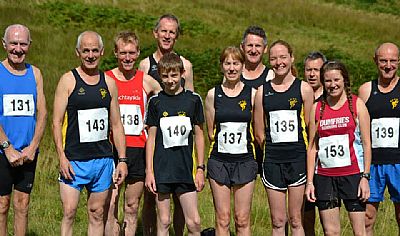 ADAC runners and friends of ADAC.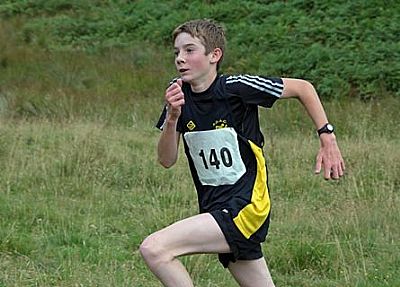 Michael powering to the line.
HILL RUNNING
HILL RUNNING CHAMPIONSHIP EVENT
CAPEL FELL Saturday 16th August
Under over cast and cool but dry weather 9 runners (with one to run the course later) turned up to run the next race in the ADAC Hill running Championship The Capel Fell Hill Race, the course is a classic hill race, 3.1 miles up hill then the same return, the first 2.5 miles are all climbing on forest track before you brake out on to the hill proper. On Saturday we had low cloud/fog was on the summit of Capel fell. The rain held off until just after we had finished, which was perfect. Janet ran really well to take first female, Jean was second, Rory was first male, Kevin second and Gordon third. Loads of prizes were given out by Rory to all the winners of beer and wine. An especial thank you to Peter for marshalling at the top, and him and Jim B for marking the course.
Results.
Rory Longmore 47:40
Kevin Plummer 49:41
Gordon Vivers 54:29
John Robson 55:34
Johnny Minto 62:18
Janet Priestley 63:44
Alan Crichton 65:57
Nigel Priestley 67:41
Kenny (guest) 68:34
Jean Robson 83:57