ATHLETE PROFILE
SEPTEMBER 2017
This month's athlete is someone who gets referred to as "The Hoff". I have no idea why that is. May I present Johnny Minto. I caught up recently with him to find out a bit more about "the hoff".
1. When and why did you start running ?
I started running when I was about 30, a couple of my brothers were running at that time and as my hourglass figure was beginning to loose its shape I thought I'd give it a go.
2. Fav. food ?
Favourite food is a very difficult one to choose , as Lynda is a trained chef I could easily choose something different for each day of the week if not a month. From curry to chocolate cake, meatballs to macaroni, roast beef to banoffee pie I wouldn't see anything going to waste just to my waistline but I would probably have to say that my biggest downfall is cheese , a nice ripe piece of camembert or a blue stilton with a lovely glass of red on the side would suffice.
3. Worst and best moments so far ?
My best moments in running so far would be my recent 43 mile run of the Annandale way, the weather on the day was perfect and the support from friends and family was fantastic. I also remember the feeling of achievement the first time I completed the durrisdeer hill race and the same feeling when Robbie and Lorna dragged me over the finish line at goatfell on Arran. I have been very lucky with injuries so far with only minor ones that haven't stopped me for to long so my worst moments have really been seeing others in the club suffering with their own injuries and having to sit on the sidelines or give up running altogether.
4. Ambitions ? Things you've not done yet ?
There are still one or two things I would like to do in running but I will keep them under my hat till I have time to train properly for them although I'm looking forward to doing the Tallin marathon in Estonia in September and hopefully by this time next year I'll can wear a pair of orange shorts with a proper six Pac ( highly unlikely).
5. Any good quotes ?
I'm not one who is big on quotes but I do believe that" perfect preparation prevents poor performance" is one that makes sense and I'M not sure who said " everyone has the will to win but its the will to prepare to win that matters." Is one I like but my favourite one which has helped me stay injury free is" when your back's against the wall don't turn round and run".
6. Best thing about ADAC ?
Best thing about Adac has been said many times, the friendliness and camaraderie within the club, the support and help from teammates, the family orientation. We are lucky to have a number of talented athletes and coaches at the club who all willingly give their knowledge and experience which can only be a benefit for all and there's cake which takes us back to a previous question.
Thanks Johnny..................errr Johnny the Banoffee pie is this way >>>
JUNE 2017
This month's athlete is someone who runs with a smile. May I present Katie Stevenson. I tracked her down recently and asked her a few questions.
1. When and why did you start running?
I tried to start running in about 2013 but I couldn't figure out why I was constantly out of breath. One of my friends pointed that if I slowed down a bit rather than trying to sprint then I would find it much easier. So I started properly when I signed up for the Edinburgh half marathon on Hogmanay 2013/2014 because my boyfriend Nick was doing the full marathon. I didn't want to be the one standing on the sidelines watching! I started running properly just after this.
2. Fav. Food?
My favourite food is probably crisps. This fluctuates between ready salted hula hoops, salt and vinegar squares and Cheese XLs. Otherwise any sort of veggies floats my boat! And fruit!
3. Best achievement so far?
Running (walking or hiking) the Durisdeer Race! (Thanks Kev!)
4. Best and worst moments you've had?
Best moment was running the 1st half of the Tiree half marathon. I got into a lovely flow and was really, really enjoying myself! Worst moment was the 2nd half of the Tiree half marathon when I turned into the wind which was literally blowing me backwards! I lost any enthusiasm at that point and just cursed at the wind and walked most of it instead!
5. Any good quotes?
"Running is alone time that lets my brain unspool the tangles that build up over days" – Rob Haneisen
6. What's the best thing about ADAC ?
Firstly the people, all so nice and friendly and you can drop back in at any point and everyone is always happy to say hello! Secondly the amount of places we go to for runs in the local area that I would never have known existed if it wasn't for Adac!
Many thanks Katie - keep smiling.
MAY 2017
This month's athlete profile has been through heaven and hell over the last 12 months as you will read in her blogs later. May I present.........Elaine Kennedy-Walton. I caught up with her recently and asked her a few questions.
1) Where and why did you start running ?
Certainly not at school (I hated PE and was always the one who had a note or forgot her kit). I knew a lot of people who ran and first have it a go after having my eldest (Dylan) and wanting to lose a few pounds. This attempt didn't go very well. After having my second (Finlay) I persevered. I still remember how hard it was starting out and the effort required to build up to running 2 miles. Since then running has became my "me" time letting me escape from life's stresses. I've also really enjoyed being a Jog Leader and encouraging others. Myself and a friend lead "Jog Moffat Families" which aims to get kids and their parents exercising together. As well as being lots of fun it's a really strong message.
2) Fav. food ?
Venison or beef steak (with a glass or two of red wine). I also love Thornton's chocolates/deserts and bread and cheese.
3) Best and worst moments so far ?
Best: completing my first half marathon in Barra was huge achievement for a plodder like me (taking on the challenge again this year, it is a brutal route), watching my eldest beat me at Kinnel Water a few years ago (there was a great picture taken of the moment he sprinted past me and it just makes me smile everytime I see it) and finishing a marathon this year at Manchester with my husband was amazing. Worst: each and every injury I've had has frustrated me but London 2016 was by far the worst moment.
Elaine has written 2 blogs on our blog page which you can read here
(Picture taken at Kinnel water run 2013 with Dylan in the lead)
4) Best quotes ?
"Hard work beats talent when talent fails to work hard". My eldest cut this quote out of Mo Farah's autobiography and pinned it to his wall but it was originally from a basketball coach called Taras Brown (thank you Google). On a more personal note "there are plenty more marathons" and "it's only a run".
5)What's the best thing about ADAC ?
Without a doubt the support you get from fellow runners. It's been said before but ADAC is really a very special and inclusive club. It doesn't matter if you are at the front, middle or end of a race you get a tremendous amount of support and encouragement. There is such a core of enthusiastic people that put a lot of effort into organising races, recces, training, social events and compiling results etc. Thanks ADAC!
Many thanks Elaine.
APRIL 2017
This month we have an athlete who is a regular at club events and wears the ADAC vest with pride wherever he races. I present Ernie Bryden. I caught up with him recently and asked him a few questions.
1. When and why did you start running ?
"Watched The Great Cumbrian Run when I was 19 and there were 5,000 in it and decided 'I want to do that'. 5 years of trying got my time down to 1.33 in Dumfries Half Marathon before giving up the sport to raise a family. Took up running again 7 years ago."
2. Favourite food ?
"OMG so many beautiful choices, but if I could only live on 2 things it would be banana ice-cream and sweet potato oven chips (vegan and low fat)"
3. Best achievement in running ?
"Broke 70 minutes for Brampton to Carlisle 10 miles 3 years ago. Thanks to training partner John Murphy for getting me to the start line in good enough shape, and to George Fraser for the traditional pre-race warm up."
4. Fav. athlete ?
"Local runner Mike Carol without a doubt was very inspirational to me. I always thought if I could break 90 minutes for a half I might ask to join ADAC, thankfully Caroline invited me along to training 7 years ago or I'd still be chasing that elusive target. A very close second to Mike are those runners who finish last in Carlisle Parkrun every week, if you're ever injured and feeling sorry for yourself, go and join in at the back of the parkrun and see some gutsy performances, very humbling."
5. Ambition - something you've not yet done in the sport ?
"Break 4 hours for a Marathon. Break 6 minutes for a Mile."
6. Any quotes you like ?
"Do not stop trying just because perfection eludes you"….B.K.S. Iyengar
7. Best thing(s) about ADAC ?
"Truly great friends who are there for you , love you all."
Many thanks Ernie - gies a smile!
MARCH 2017
Just in time for this month we have not one but 2 athlete profiles. They are always together and both look forward to going a run. May I present Alan Creighton and..................Bob !
I tracked both of them down and Alan spoke for the pair as Bob was just a bit hard to understand.
1. When and why did you start running ?
"I started running 2010, I was then a bit obsessed with cycling time trials and thought running would make me go faster on my bike but discovered running was far more rewarding and now do very little cycling!"
2. What is your best achievement so far and your worst moment ?
"2016 was a year of ups and downs, starting with having to pull out of the Highland Fling after 20 miles. Then problems with my feet throughout the summer, I wasn't running at all and was advised to take up swimming!! Gradually through trial and error I managed to find a way round it. I was fortunate to get an entry in the Glen Ogle 33 so had a goal to aim for. I would like to thank Louise and Alan for helping me get through the training and the race. Up to date completing the Glen Ogle is my best achievement and gave me the most satisfaction."
3. What is your fav. food ?
"Chinese and a good bottle of red and Bob likes a good bone!"
4. What's our best quote ?
Confucius quote: "It does not matter how slowly you go as long as you do not stop".
5. What's the best thing about ADAC ?
"I like the spirit of the club, everyone is friendly and supportive of each other, a great atmosphere. "
6. Things you havent done yet ?
"I really would like to complete the Highland Fling this year and sub 4 hour marathon is on my bucket list."
Many thanks Alan..................I think Bob is waiting to go a run now.
FEBRUARY 2017
Slightly late but worth the wait............I present John Murphy (Murph)- the biggest and probably the only QPR supporter North of the Border.
I cornered him recently and asked him about his running.
1. When and why did you start running ?
"I started in the late eighties to keep fit for playing football when I was still down South. When I came up here to live I started running more and joined ADAC"
2. Fav. food ?
"Our homemade curry on a Saturday night."
3. Your best and worst moments in running ?
"Well where do I start.......going under 3 hours in the London marathon then nearly equalling it a few years later on one of the hottest days for the marathon and of course winning the summer club championship. Worst moment would be dislocating my shoulder whilst out running." (Ouch)
4. Anything you haven't done that you want to ?
"I've done everything I wanted to do now running to keep fit and have fun."
5. Any good quotes ?
"Winners make it happen , losers let it happen."
6. What is the best thing about ADAC ?
"ADAC is a friendly and supportive club and everybody buys into the spirit of the club."
Thanks John now please get that team sorted !
JANUARY 2017
Just a little late for the month but our next athlete is someone who is seen mainly up hills but can be seen on the roads as well and makes lovely scones for the annual Hightae road run. May I present Jean Robson. I caught up with her a wee while back to ask her about her running.
1) When and why did you start running ?
I started running in the early 1980s, as it was the only way to ensure I could keep up with John (Mr.R) on a long day of mountain walking, and take some pictures of things other than his back disappearing into the clouds!
2) Favourite food ?
Flap jack at the Ae cafe after a run in the forest.
3) Best achievement ?
Running is my unwind from work, or thinking time, races are sociable opportunities to push myself, So my best achievement is to still be doing it at almost 60!
4) Ambition - something you've not yet done in the sport ?
To keep running as long as Jim Buchanan !
5) Any quotes you like ?
' If you think you can do it you can, so why bother?'
Doug Scott about climbing Annapurna, taken one way gives the perfect excuse for inactivity, however can also stimulate you to analyse your motivation!
6) Best thing(s) about ADAC ?
Put ADAC into google - First hit is Allgemeiner Deutscher Automobil Club, which provides 'yellow angels' to help motorists in distress. Second hit Annan and District AC, which provides yellow jelly babies and other treats for runners in distress.
Many thanks Jean let's all hope we can be enjoying our running as long as Mr.B has.
DECEMBER 2016
Last month we had the student , now we have the mentor. This athlete needs no introduction and his talent over many different distances and terrain is second to none. May I present.............Mark Whitelaw.
I managed to catch up with him (not easy) and asked him a few questions recently.
1) Fav. food ?
"Toast - because it's versatile, a bit like me lol! You can have it any time, anywhere and with all different sorts of toppings."
2) When and why did you start running ?
"I started in 1989 - when I was 19. I started just for exercise and entered the Moffat road race. I worked in the local butcher at the time and Jim Buchanan came in having seen my entry to the race, and he wanted to find out more about me. It was my first race and I ran well enough so went along to more local races. The faster boys were all in clubs and training so I thought if i wanted to get better I'd need to train, that's when Jim started taking me running on a wednesday afternoon up in the local moffat hills. The rest, as they say, is history!!!"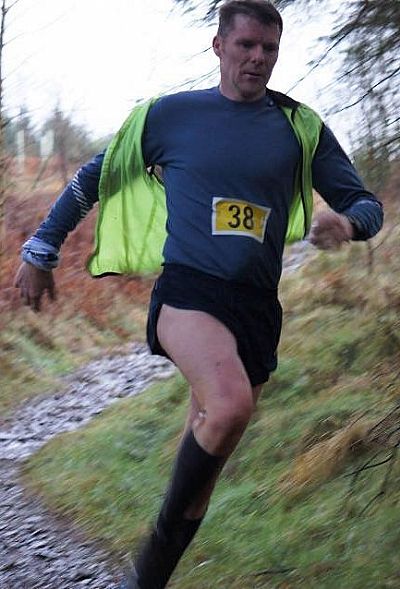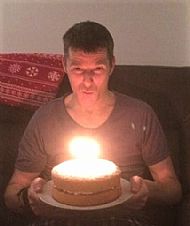 (Mark tries out his new cape he got for his birthday)
3) Best and worst moments in running ?
"Best moment - I've had that many great moments in running it's hard to choose, but I reckon my 6th equal at the Tom Scott Memorial 10 mile road race tops the list due to the extremely high quality field and my time of 51:17. Worst moment - I had raced a PB of 2:42 at the London Marathon in 2004 in the April then raced the Kirkcudbright Half Marathon in May just after, hoping the effects of the marathon weren't too bad. I was through 10 miles in 52 minutes and leading when the wheels fell off big time. I had to walk and jog the last 3.1 miles home and ended up well down the field."
4)Fav. athlete ?
"Haile Gebre Selassie, the man is a machine!"
5) Fav. quote ?
"Running is the greatest metaphor for life, because you only get out of it, what you put into it"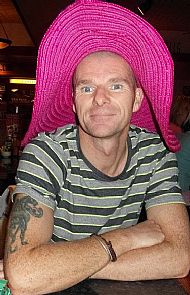 Thanks Mark..............now take that silly hat off please.
NOVEMBER 2016
Just in time for November we have a newbie athlete who has had a fantastic season and one to watch out for next year. May I present.....Graham McLellan.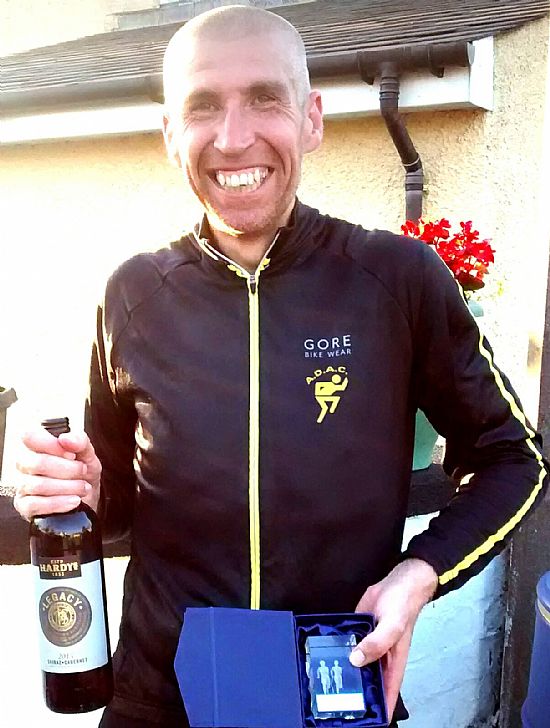 Here's what he had to say when I caught up with him.
1. What is your favourite food?
"I enjoy a fillet stake Rosini from my favourite Italian restaurant in Dalbeattie (but only if my wife Susan is paying)"
2.When and why did you start running?
"I started running late in the year of 2009. The main reason was to lose weight and make more healthy lifestyle choices."
3.Your best and worst moments so far?
"My best moment was winning the Carmichael Trail Run which was my first trail race I'd ever won. It was a real achievement after all of the hard work I had put in over the years"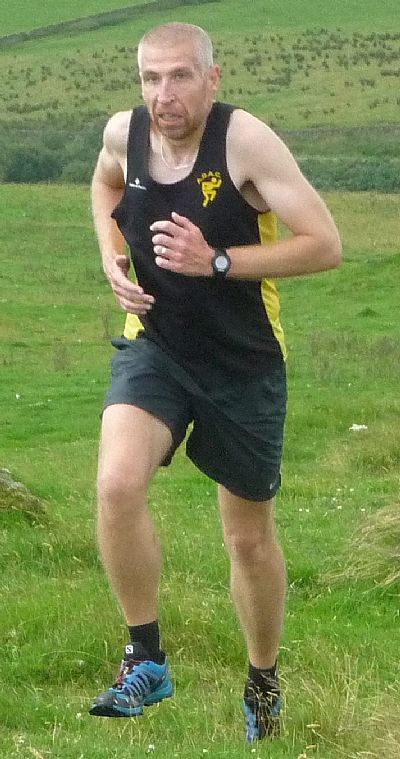 "My worst moment was when I injured my knee and couldn't run for 2-3 months. It was also an expensive time for Susan as she had to give in and buy me a bike for my birthday"
4. Favourite athlete and why?
"Mark Whitelaw because he has coached and mentored me over the years. I couldn't have achieved what I have without his constant support. He is a legend!"
5. Best quotes?
"Every champion was once a contender" (Rocky)
"Dress for the last mile not the first"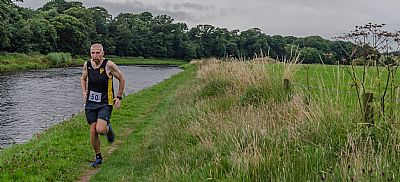 6. Best thing about ADAC?
"The people make the club. Everyone is so welcoming and friendly. The work everyone puts into the races throughout the year is phenomenal. The best club out there!"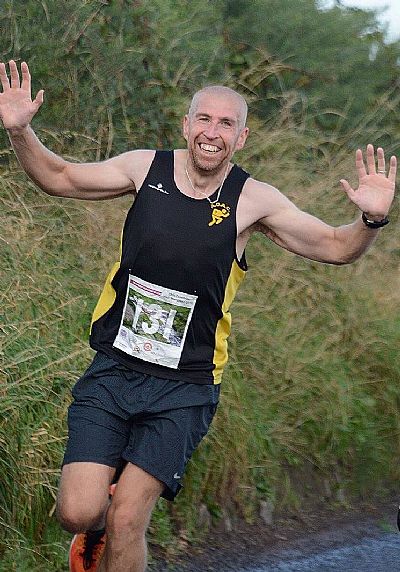 Thanks Graham now make sure that grass is cut for next week !
OCOTBER 2016
Some birthdays are special and this fella had a really special one recently. May I present October's Senior Athlete profile .......Nigel Priestley.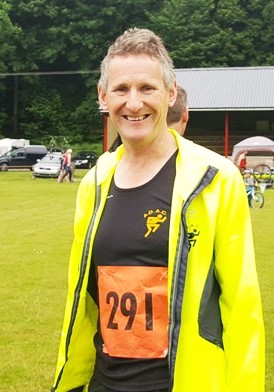 I caught up with him on his birthday and told him that he was the chosen one (he already knew this) and here's what he had to tell us.
Favourite food?
"No doubts………..gammon steak with pineapple and egg……………….and cakes of course."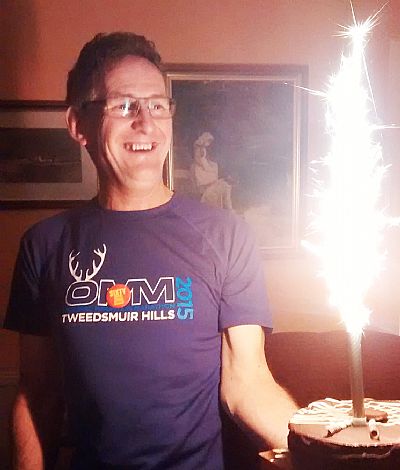 When and why did you start running ?
"When I was 33 (27 years ago) I was struggling being self-employed and actually applied to join the Police force and joined ADAC to get fitter. I was rejected by the Police but accepted by ADAC and became an "athlete" instead. I ran roads and cross country for a few years then got introduced to fell running by the Langholm gang and loved it"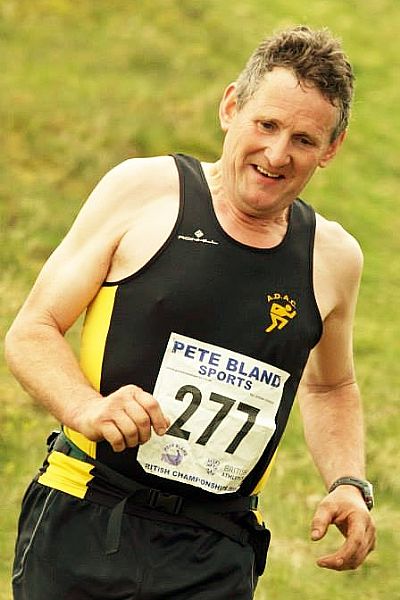 What is your best achievement?
"Most races I would finish below half of the field but on the Navigation side I did better finishing in the prizes at the O.M.M. (The Original Mountain Marathon) with Tosh Brannon , my most regular partner"
Worst moment?
"There have a been a few over the years but to memory my worst was Durrisdere 2015 struggling to finish in tears realising that I could no longer manage these great races."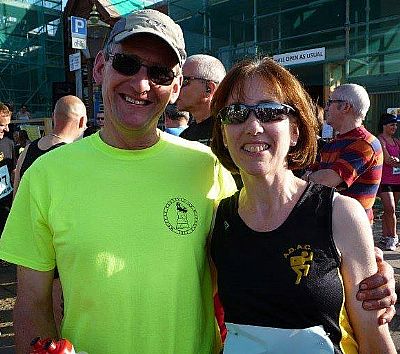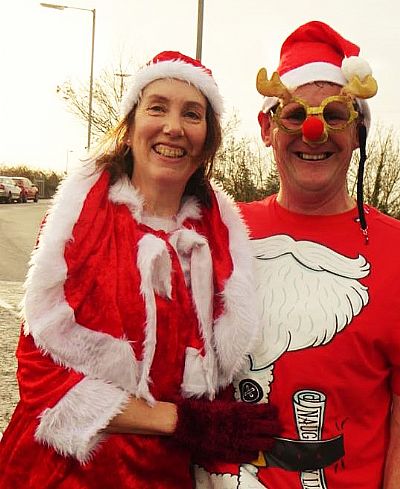 Favourite athlete?
"There are no better ones than those close to home and the ones who are around me – ADAC members of course but especially Roger Irving , Jim Buchanan and of course my lovely wife Janet."
Best thing about ADAC?
"Everything ! Many thanks to everyone from ADAC – I still enjoy my running and Tuesday last week was really special."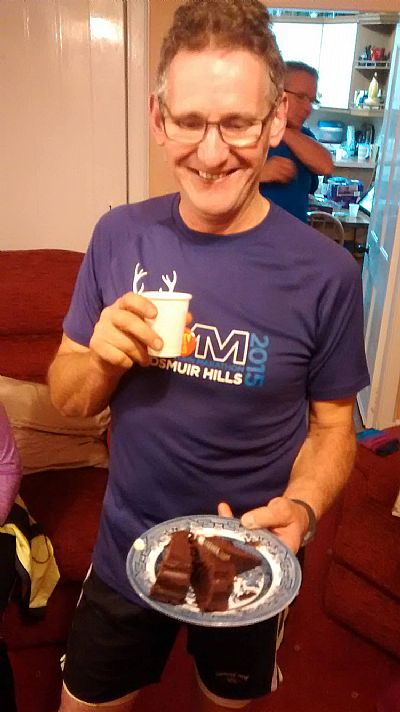 Many thanks Nigel ………….remember you're never too old to run up those hills ! Now go and have that last bit of cake.
SEPTEMBER 2016
This month we feature another newbie who has had some excellent runs this year and one who is not afraid to give everything a go.
Here's..................Rosie Allen.

When and why did you start running?
I started running in January 2015. Darren had been muttering on about taking up running for a while and we agreed to start in the new year. Alan Reville, who has for years talked to my deaf ears about running, made us a personalised 9 week couch to 5k plan, which included instructions to "slow down and have a smoke" and stuff like that. I've never been a sporty person but I've always kept reasonably fit gardening, walking, and running around after the kids. It's funny to look back on my running diary to see that 60 second runs with 90 second walking intervals used to be a killer.
Fav. Food?
That would be a dish I call "fat salad": hard boiled eggs, boiled/fried tatties, olives, lettuce, strong cheese, and anything else that's lying around, plus dressing. Nom nom.
Best and worst moments so far?
It's difficult to choose. I rate running down Criffel in the race pretty highly. I was cracking up laughing, totally clabbered in mud and generally having a great time, being overtaken by people who were taking it a bit seriously, which just cracked me up all the more; Janet shouting me in at the end was the icing on the cake. Great race, great weather.
My worst moment was the second last mile of the Langholm half trail. The folk at the water station said I had two miles to go but it felt like seven. I wasn't impressed, but I was so happy to see all the ADAC folk sitting in the sun, having a picnic at the end. Thanks guys.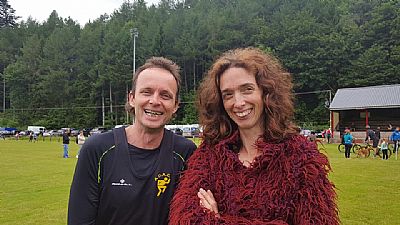 Ambitions?
I reach a point when I'm running in races where I get really moany to myself; I'd really like to run a whole race in a positive vibe.
Best quotes.
I don't really have a best quote, but singing "I Feel Good" to myself for the last mile of the Hartfell Horseshoe really kept my spirits up when my body had totally had enough!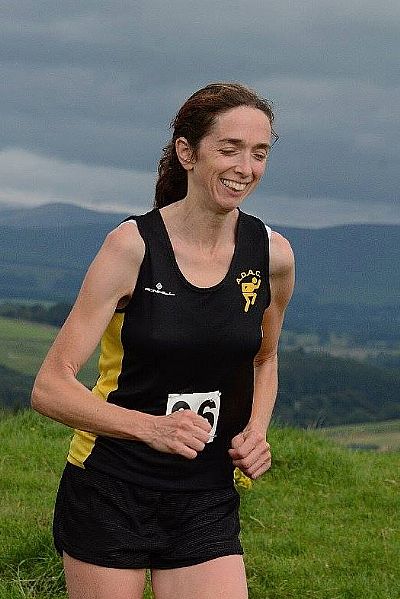 Best thing about ADAC ?
There are many best things about ADAC. The first time I ran with you was Wamphray Glen in November 2015. I had gone with Alan Reville and Darren, unaware that it was even a race, until Alan said to me I was getting third prize. I felt so at home with all the ADAC crew; the people were all lovely, the food was fantastic and I felt like I'd found my tribe- thanks guys. I love ADAC. The people are still lovely, the food is still fantastic, and added to that is constant support, encouragement, training, advice, friendship and humour. What a great club!
Thanks Rosie.
AUGUST 2016
This month I managed to track down one of our newer members. This person is a regular at training and races and I asked him some questions about his running over the years.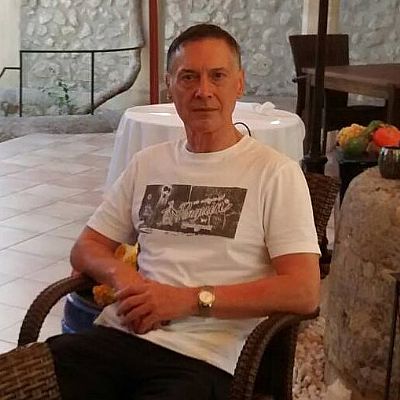 Favourite food ?
I do like a Biriyani, and since I started running again I've been strangely drawn to large bowls of pasta.
Why & when did you start running?
I used to run a bit in my early thirties, to keep fit, as well as playing squash and 5 a side football. In 1983 I decided to enter a half marathon in Preston, and got round in 1.36. For the rest of that summer I trained really hard, running six days a week – timewise this was straightforward since was on a long summer vacation from university (I went as a mature student). My next half marathon was 1.29, then I got down to 1.22. After I went back to university my final exams, then work, then life generally intervened, and I only ran occasionally.
I'm quite restless, and when I retired from work two years ago, I knew I needed to do something, so decided to run again. I started a beginners course with Swinton Running Club, and then joined the main group. I did a few parkruns – my first was 29 and a half minutes and it nearly killed me. I learned pretty quickly that progress is much slower as you get older, but over the next 15 months got down to 24 and a half minutes. Losing over a stone has helped. Running lets you know you are still alive and kicking.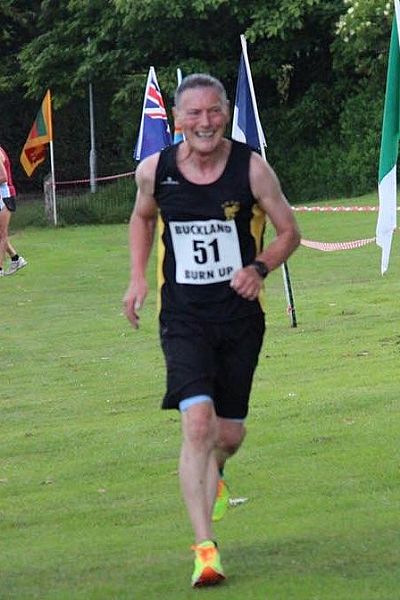 Best & worst moments ?
Best
I did a 49.21 10k as the final leg of a relay triathlon last year, which was a target (sub 50) that I'd set myself, and this year managed to do the Kirkubright half marathon in 1.55. I was pleased with this although I seem to have lost 33 minutes in the last 33 years.
Worst
I've had a heel problem recently and had to take 3 weeks off. At my age any injury makes you feel gloomy, particularly when you consult Dr Google. Seeing Crooked Road stretching out in front of me gave me a nasty surprise too.
Ambitions
I'd like to do another sub 50 10k and do a decent parkrun time. Could I do a sub 1.50 half marathon?
I'd also like to have a go at setting up a beginners group, to see if we can get one or two new seniors.
Fav. Quotes
We may suffer many defeats, but we must never be defeated. (Maya Angelou) I saw her speak in Liverpool about 30 years ago. She was a force.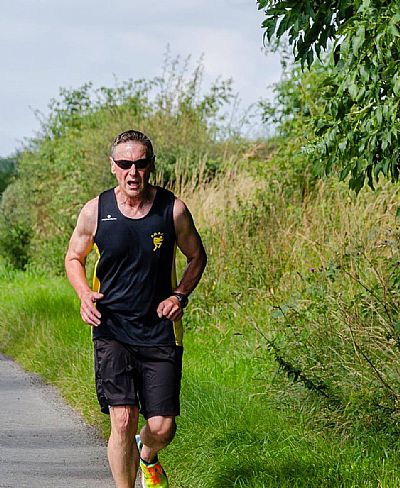 Best thing about ADAC ?
I was made to feel very welcome when I arrived in October 2015. Thank you everybody. The club has a real family atmosphere, and I look forward to meeting up with the others at the weekly runs and special events. These days I can mostly understand what people are saying. The club manages to be pretty organised and structured but at the same time create a relaxed atmosphere. I have to say that some of the scenery on the runs looks breath-taking in summer (not so much in winter). It beats running along the A6 and East Lancashire Road in Salford.
Many thanks Barry.........stay injury free !
ATHLETE PROFILE
JULY 2016
Our latest addition to the profile page is someone that was in S6 when I started teaching. Yes he is that old as well ! It gives me great pleasure to introduce......
"Spif" AKA Richard Smith.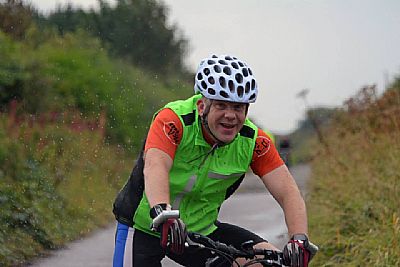 1) Why and when did you start running ?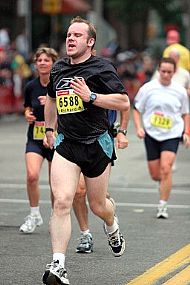 (Richard young and older. Left 2005. Right 1988)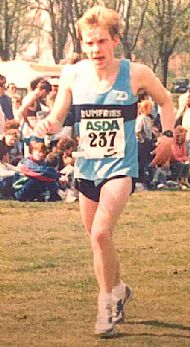 I've had 2 stints, the first was at School when I really enjoyed cross country and I was also really good at the hurdles. I Competed at Regional level and I also ran in the National schools cross country a couple of times. I competed on the track for Dumfries AAC running middle distance. This carried onto my mid 20's but then away to Uni and after that working shifts I got lazy and fat! In 2005 I decided I wanted to get back into run and entered the Toronto half marathon, which I completed in 2hr13. I joined ADAC and for the next few years only managed a couple of races a year, but stuck at it even though a few times I did think I was not getting anywhere.
2) Best and worst moments so far ?
Best - Seeing my times improve over the last couple of years and completing my first sprint Triathlon last September. Worst - Any injury.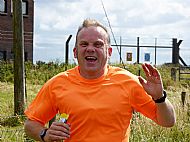 3) Ambitions (things you've not yet done)?
I would really like to crack the age graded 65%. I managed a park run in October last year of 64.83% so I am not far away, then keep my age grade score up. Retain my trophy from the Doctors Run in September! Improve my freestyle so I can manage a tri swim faster! (how can breathing be so difficult ?)
4) Funniest moments ?
A few years ago I completed in a Duathlon at Stirling. A group of about 5 of us were 'last on the road' for the second 5km. The marshall at a turn had obviosly thought everyone was finished and left. We missed the turn and ended up doing about 8km!
5) Fav food ?
Lobster or a nice piece of Halibut
('That Halibut was good enough for Jehovah' name the film?)
6) Best quotes and best advice for a beginner ?
"On a given day, a given circumstance, you think you have a limit. And you then go for this limit and you touch this limit, and you think, 'Okay, this is the limit'. And so you touch this limit, something happens and you suddenly can go a little bit further. With your mind power, your determination, your instinct, and the experience as well, you can fly very high." - Ayrton Senna
'Alcohol: the cause of, and solution to, all of life's problems' - Homer
Best advice for beginners is keep chipping away, consistency will bring results. In 2010 I scored 2 points and finished last in the ADAC summer league, last year I was 7th with 131 points! Coach Joe Beer podcast has some really good tips and his advice on all endurance sports and some great advice on HR zone training. This is probably been the one thing that has improved my performance the most, following his advice on HR zone training.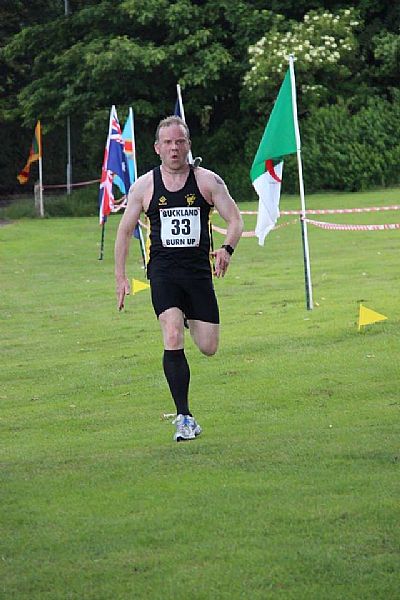 (Looking lean and mean at the recent Buckland Burn up )
7) What is the best thing about ADAC ?
It has been said before but everyone is friendly and welcoming. We all look out for each other and happy to help with a kind work or support. It does not matter if you are running 7 minute miles or 14 minute miles you are part of the club.
Thanks Richard. We'll be watching out for that 65% mark !
JUNE 2016
Here's someone who will be an inspiration for many newcomers to our sport. I present........Linda Cameron. I tracked her down recently to ask her some questions. Here's what she said: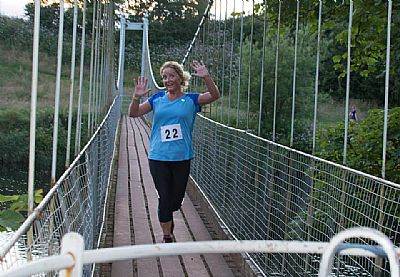 Why and when did you start running?
I started in April 2015 after much nagging… sorry …. encouragement from Alan. He joined ADAC in January 2014 and was just so enthusiastic about the whole thing. He lost loads of weight, he was fitter than he had been for a long time (although he says he's always been fit…) and he just had such a great attitude to it that I thought I could do with some of that for myself. I started doing a few wee runs just by myself (I wasn't fit to be seen in company!) and I just never realised how hard it was! I used to think anyone could run…. until I started running. I also used to think that I would never be able to run…. Yep – still think that most days!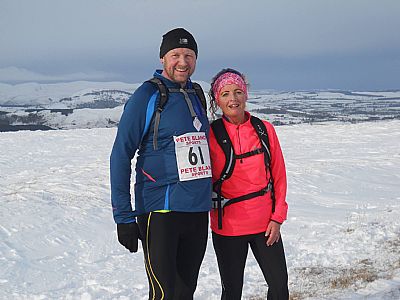 Best and worst moments ?
I'll start with the worst moments – there's more of them….. ! If you had asked me three weeks ago I would have said Hartfell Horseshoe and if it had been two weeks ago I would have said Kirkcudbright Half Marathon but these have been overtaken by Durisdeer. Oh my life. If it wasn't for Yvonne (Kerr) I would still be lying face down somewhere up Well Hill ! Everything hurt, I was covered in midgie bites and I don't think I enjoyed any part of it at all (don't let that put you off though… honestly…)
Now for the best…. Hartfell, Kirkcudbright and Durisdeer! I never thought I would ever be capable of doing anything like this at all so they are all great achievements done in great company (Yvonne!). My favourite race though has to be Black Esk. It was a perfect day and I didn't put myself under any pressure at all. Lovely run and great scenery.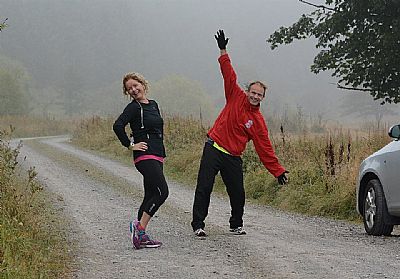 Ambitions ?
To run and for it not to kill me and to run and be able to talk (watch out you lot when that starts haha).
Funniest moments
Hmmm…. Getting lost in Annan with Yvonne – dressed as a Christmas tree and Santa! Ripping my skins at Screel and having to finish the race with my breeks on show (with Yvonne!)
Favourite food ?
Prosecco, wine, cocktails…. Pizza, steak, pasta, chicken, chips, chocolate, cakes, crisps…. And beer. I like beer too. But not raisins or currants or sultanas. Or healthy stuff. Or fish. #boak!
Best quotes ?
If you can't handle me at my worst then you sure as hell don't deserve me at my best
Your mind gives up long before your body does (that's from a runner!)
Don't say you're not a real runner. If you run then you are a runner. There's no such thing as a fake runner.
Advice for beginners ?
Simple – if I can run then anyone can run!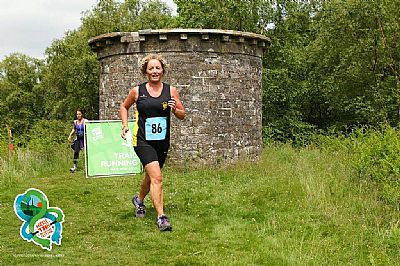 Best thing about ADAC ?
Like Grant - Joe's comments on the photos! ADAC really has the friendliest people you will ever meet in your whole life. Someone will always run with you (at your pace!) and you never feel like you are a burden on anyone when you can't keep up. I didn't really believe Alan at first when he talked endlessly about how lovely everyone in the club was – I know now what he means. He's encouraged me to keep at the running (though not too much or I might just beat him one of these fine days…) and I can honestly say if it wasn't for Yvonne's constant encouragement I would have given up long before now (even though she is totally mental… I mean, she LIKED Durisdeer!!). Two more things that made me realise how good our club is was when everyone came back to run the last quarter of a mile with me at the end of Criffel hill race and cheer me to the end and when Nigel checks my laces before a hill run! (Thanks Nigel)
Many thanks Linda ! Check those laces now.
MAY 2016
Just in time for May we have an athlete who is always the first person to give me "Kudos" on Strava in the morning and who is a regular on the roads in the summer. I present.............Grant Seaton.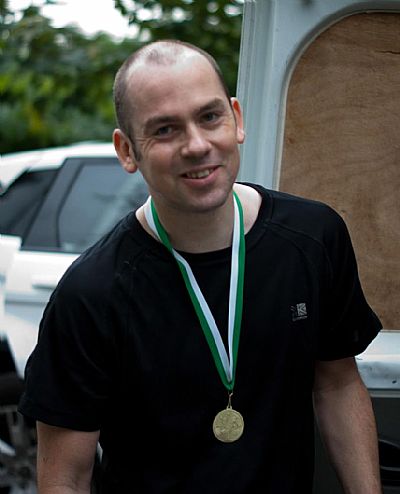 I caught up with him to ask him about his running recently and here's what he said.
1. When and why did you start running ?
Started running in 2010 in preparation for the Great North Run. I was running to raise funds for Leukaemia and Lymphoma Research after a friend was diagnosed with Hodgkin's Lymphoma. We raised over £7.5k and more importantly my friend fully recovered and is an inspiration having just completed the London Marathon in April this year. I also stopped smoking in 2010 whilst training as I didn't think it suited my running style.
2. Best and worst moments ?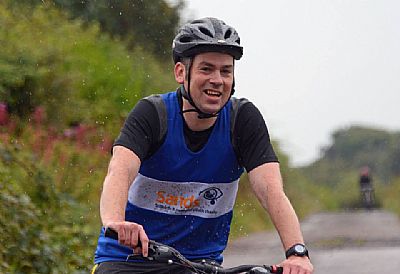 (Grant on his cycle leg of the Duathlon in Sep 2015)
It is difficult to beat running across the Tyne Bridge whilst the Red Arrows fly past overhead, although this was surpassed when ADAC chose DG Sands as the chosen charity for the Newbie Duathlon. It made me proud to be a member. Worst moments - all injuries. It is just so frustrating!!!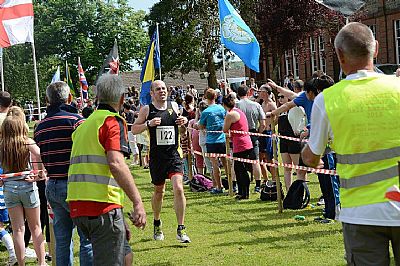 (Crossing the line at Kirkcudbright Half Marathon on Saturday)
3. Ambitions ?
To run the 2017 London Marathon. Although I said no more marathons after Loch Ness, London or New York are the exception to that rule... call it an alternative sight seeing tour.... fingers crossed for the London Ballot results in October although I have a charity based plan if not successful. Ha!
4. Funniest moments ?
6 of us did the Loch Ness Marathon for the Anthony Nolan Trust in 2014 and around 14 of us trooped up to Inverness living in a wooden lodge on the banks of Loch Ness for 4 days of madness and laughs. It was a real memorable experience and one I'll never forget. Joe's captions on photos are sometimes funny as well although I wouldn't tell him that, don't want him getting a big head :-)
5. Fav. food ?
Simple - linguine pasta that is well seasoned, with olive oil and Parmesan. Or a good bit of steak - medium rare.
6. Best quote ?
"Run the mile you are in."
Works with running but also as a coping mechanism for everyday life and what can be thrown at you
7. What's special about ADAC ?
The banter is top notch. Although always well organised, nothing is ever taken too seriously which makes it accessible to all abilities. Members and guests feel welcome and benefit as a result. Well done ADAC! WOOP WOOP!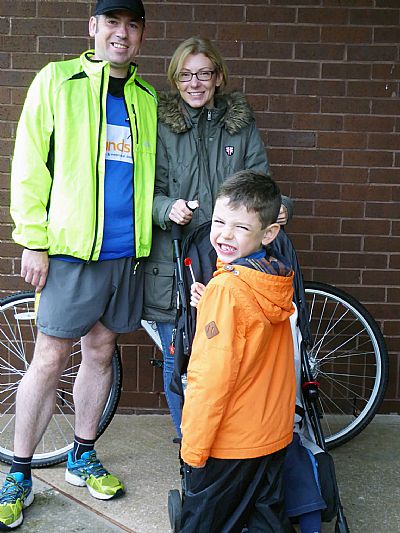 (Family photo taken at the Duathlon with probably the best smile of the day from Archie !)
Many thanks Grant.
APRIL 2016
This month we break with tradition and we have two athletes for you.
Both are regulars on the roads and hills.
Presenting ........................Emma (in blue) and Michael Kerr (in black).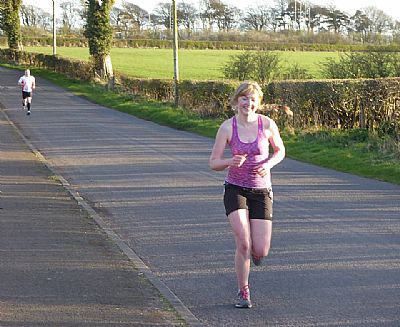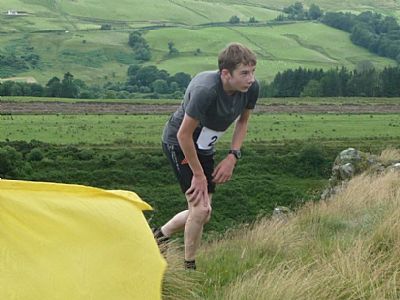 I tracked them both down and asked them a few questions. Here's what they said.
1. When did you start running and why?
I started in Primary school P6 because I liked getting out and into the countryside.
I started running just after my mum started in October 2014, mainly because I couldn't let my mum be fitter than me – that would just be embarrassing.
2. Favourite food?
Easy question for me to answer it has to be Steak.
I love roast chicken and cashew nuts.
3. Best event so far ?
I think my best run so far has been the Beef tub run and not just because I got a tin of Beef soup afterwards.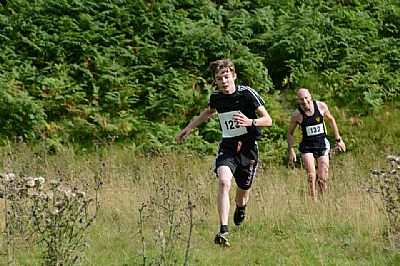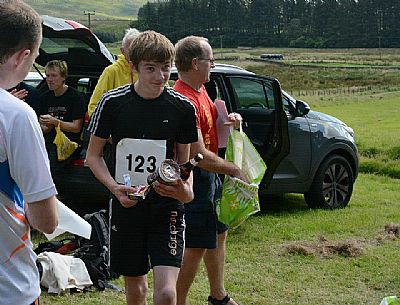 It would be between Glasgow half marathon and the run up Helvellyn in the Lake District. I've always wanted to do a half marathon so it was a really big achievement for me to finally do one and in an decent time too. And Helvellyn was just great fun.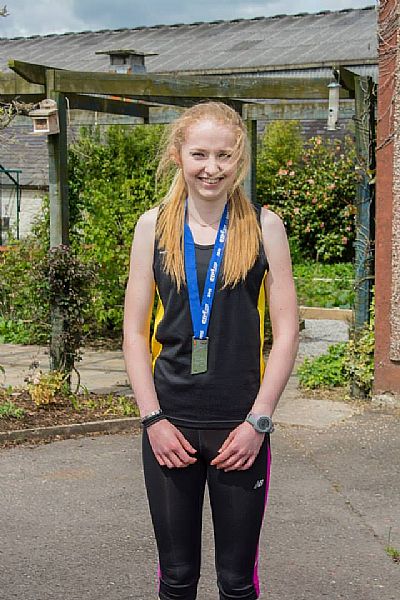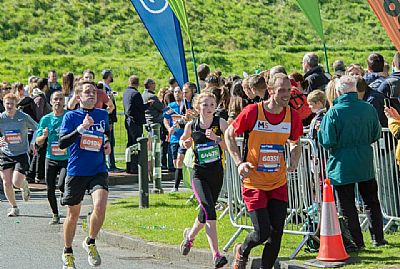 4. Future ambitions?
I'd like to study Physics at University and do a Bob Graham round.
I've always wanted to be a vet so that is probably my main life ambition. I would really like to do more ½ marathons and maybe giving the Bob Graham a go too.
5. Best quotes ?
"You can run this bit" – Kev Plummer
"What doesn't kill you makes you stronger"
6. Best thing about ADAC?
Everyone is so friendly apart from Joe who is just a pain (kidding). It's like a big family.
Everybody is really encouraging and supportive. The trips are really good fun and a good laugh plus there's always plenty of sweets thanks to Nigel.
7. Funniest moment in training or racing?
Alan Cameron jumping of Skiddaw and scaring my mum.
Falling waist deep in a bog up Queensberry and having to be rescued (thanks Richard Smith !).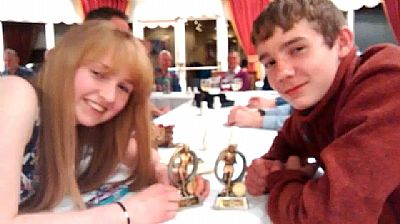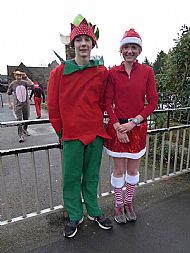 Thanks guys.
What do you mean I'm a pain Michael ? Ha !
Good luck with your exams.
MARCH 2016
Our latest athlete profile is ........ "jinx" AKA Andrew Carruthers.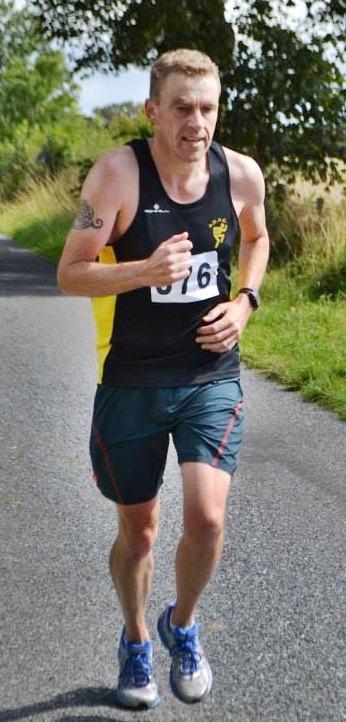 I tracked him down a few weeks ago and , although he wasn't in a good mood after my team beat his team in a footy competition , I managed to ask him a few questions.
1) When and why did you start running ?
I went along as an adult helper when my daughter started running 4 years ago. Molly then asked if I would do the Sport Relief 5k with her, which I did (and couldn't walk for a fortnight afterwards). Really never stopped since then .
2) Fav. food ?
A Mexican chicken Stew called - Mole*- honest !
3) What are the challenges you face ?
I have had type 1 diabetes for almost 45 years now (I know I don't look it !) .
There are challenges that go with it but diabetes has never stopped me doing anything and it never will!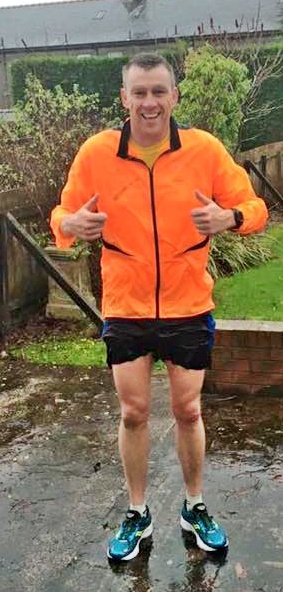 4) Best and worst moments ?
Best running moment has to be standing on the start line if the Great North Run 2013 and 2014 with 55,000 other people . Worst - Genuinely can't think of any. (Maybe Man Utd getting beat ? ooops sorry Jinx)
5) Ambition in running......things you've not done yet ?
To stay injury free and carry on plodding .
6) A good quote ?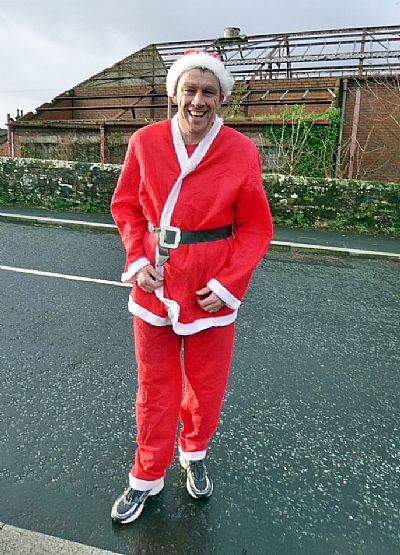 "A slow mile is better than no mile" .
7) Finally what's the best thing about ADAC ?
A struggle to pick ONE thing ! The most welcoming, funny, friendly and craziest bunch I have ever had the pleasure to be amongst.
Many thanks Jinx. Now get that footy team sorted.............. Cheers.
FEBRUARY 2016
Our athlete profile for February is our very own Louise Hopper.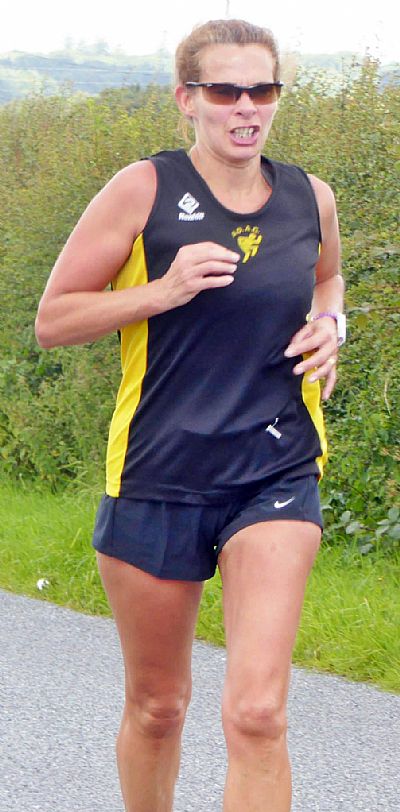 I caught up with her recently to ask her some questions.
1) When and why did you start running ?
I was away with friends for a weekend and the London marathon was on TV .(1997) I said I'm going to do that one day. It only took them to say no way you will do it. That was it - the challenge ahead. I started running the next day. Applied and was lucky enough to get a place in the 1998 London marathon. I'v never looked back. After getting myself fit enough to get round I wasn't going to give up. Caroline Legg had got me involved in ADAC which was a great help with the training.
2) Fav. food
I love most food but ice cream is one of my fav......... oh and rice pudding.
3) Best advice to a new / beginner runner ?
Join ADAC you'll never regret ( I didn't)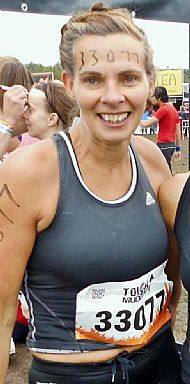 (Not just a number !)
4) Best moment and........worst moment so far.
Best :Completing my first London marathon, but I do enjoy the recce runs. Especially enjoyed Helvellyn
Worst: Getting cramp at 16 miles in the New York marathon. That was no fun.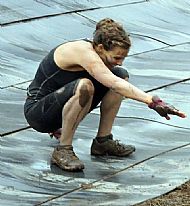 (Pic taken during Tough Mudder)
5) Ambition in running......things you've not done yet ?
After watching The Adventure Show I think I would like to do an ultra marathon. That means a lot of hard work. Training schedule will need to start soon.
6) Fav. quote.
"One foot in front of the other repeat as often as necessary to the finish" Haruki Marukami
7) Best thing about ADAC ?
The most friendliest club .Always support given to everyone and always welcome new members. ADAC keeps all members motivated with winter /road championship and fun events. Thanks to everyone in the club.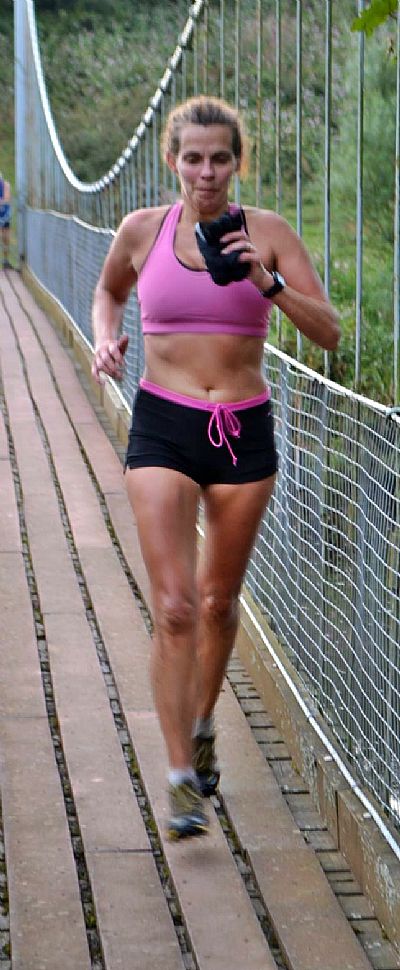 Many thanks Louise now you'd better get that training started !
JANUARY 2016
We're almost at the end of the month so it is high time we had another athlete profile to look at. This "young" man celebrated a BIG birthday recently and I caught up with Alan Cameron to ask him a few questions about his running.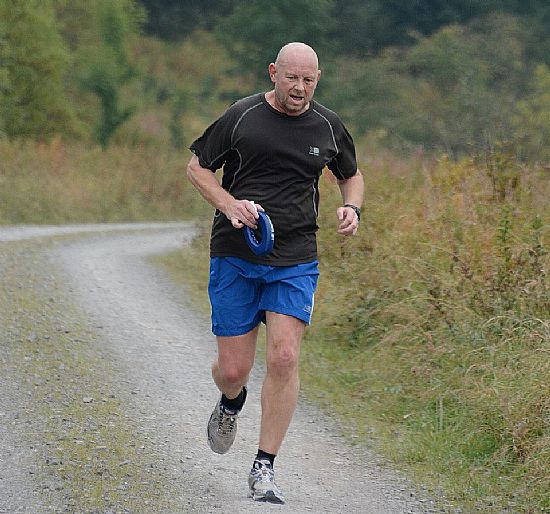 1 Why and when did you start running ?
I came up with the idea of trying Hill Running back in Nov 2013. I was 18 and a half stone , unfit and fed up in general with far too many days out on the sauce.
I contacted Dougie Milligan through Scottish Hill Runners who runs the Screel Race and it was him who put me in touch with Caroline Legg and Nigel Priestley .
A few days later after speaking to them both ,Nigel came round to the house and took me a run / walk around Brownmoore Forest and to say I struggled was an understatement.
After the run Nigel told me ADAC were having a race there the following Saturday and asked if I would I like to go. I decided to go for it and even although it was very difficult for me , it was the whole team of ADAC that were waiting and cheering me on as I came down the hill to finish after a gruelling 4.8 miles that I remember more than anything. I can honestly say it was one of the best feelings In my life and one I will never forget.
That was me hooked ! Jan 2014.
2 What is your ambition in terms of running ?
I don't really have much ambition on the running other than trying to stay fit so I can run. Last year I had a couple of nigglely injuries and I missed around 10 weeks which was driving me nuts. If I can improve slightly then great but if not then I'm just glad to be part of ADAC and I would like to be for as long as I can.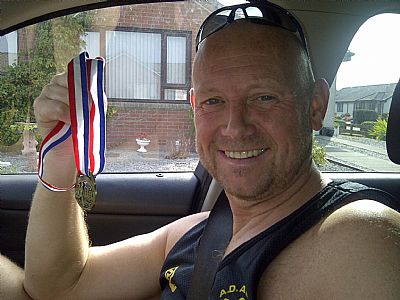 3 Fav. food ?
Seafood Pizza and Steak. Pizzeria in Dumfries is where I love to go with my wife Linda.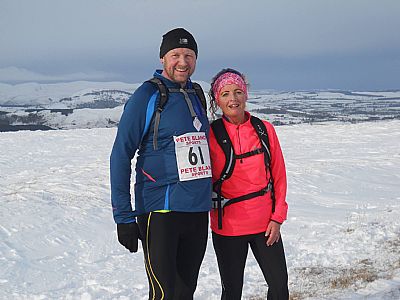 4 Why is ADAC the best ?
ADAC is the best club I have ever joined or been involved with because everyone cares about one another so much.
I played for over 20 years in the amateur football leagues both on a Saturday and Sunday at not a bad level and won my fair share of trophies. Although I cannot see myself winning many trophies at ADAC , I get far more satisfaction from just being involved. I can honestly say that there is not one single bad egg among the whole club and that is unique.
5 Best quotes ?
I don't have a favourite quote as such. I try to run with a smile on my face and help and encourage others as much as I can. Basically I try to put back into the club what others have done for me.
6 What are your best and worst moments in athletics so far ?
My best moments have definitely been seeing how much my wife has improved . To go from a complete non runner to where she is now in 9 months is quite incredible. That and finishing my 2 half marathons and the Hartfell Horseshoe run.
Worst moments have been when I have seen others who have had to stop running or take a break due to injury. With myself being injured recently , I can truly see now how they feel and I wish everyone who is injured a speedy recovery.
Cheers big AL !
ATHLETE PROFILE
DECEMBER
Our Christmas athelete profile is someone who was named the most improved athlete this year back in November at the Awards evening - and quite rightly so !
May I present non other than Yvonne Kerr.

She has been an ever present competitor over the last year and I caught up with her to ask some questions recently.
1 When and why did you start running ?
I started running October 2014 the reasons were many. I was overweight , had digestive problems needing strong prescription tablets which in the long term had health risks and I had little energy and motivation. I could say it was my son Michael that motivated me to start running but to be honest it wasn't purely Michael as he was young and fast and I never thought I would be able to enjoy running like he did or be able to run with him. Michael did start the ball rolling though when he started running with Adac seniors and it was seeing people like Nigel, Janet, kevin who were all older than me in age but physically and mentally seemed a lot younger than me . They were so young in their outlook , were enthusiastic and had a lust for life that I just didn't have so I thought if they could do I could do it and I want to feel like that too ! (And if you're wondering the answer's yes running and especially all the new friends I have made, has done just that)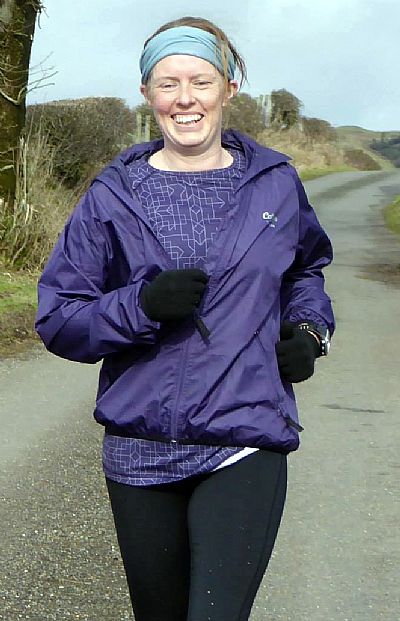 2) What is your favourite food ?
Favourite food is a hot curry or something spicy I'm partial to a Thai meal.
3) What has been your best moment so far as an athlete ?
Best moment so far- there have been so many of them I wouldn't know what to choose. Being able to run a mile without stopping was a huge achievement for me also being able to run the club races, doing 10k and local trail races have been great. One of my favourite races would be Tinto as I like the downhill bits. My other favourite moments would be running with other beginner runners like Linda and Louise and seeing them improve and enjoy it , supporting each other and having a laugh when out on training runs and days out.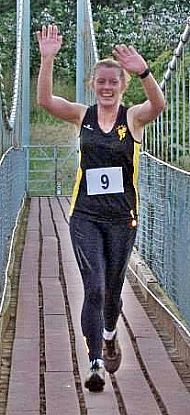 4) What makes ADAC a special club ?
What makes Adac special ? That's easy - the people it's as simple as that. Everybody from the experienced runners, the fast talented runners who are at the top of their game to more casual easy going runner. They are all friendly , encouraging and never make you feel inadequate. They all recognise and make me feel that my achievements are just as important. They might be winning the race whereas I will be coming in at the back of the field but they still realise for me my achievement is as great as theirs.
5) What is your favourite Music ?
I am not one for listening to a lot of music but I like the oldies like Meatloaf, Bon Jovi. I quite like country and western and Adele, Sam smith but I'm usually too busy gabbing to listen to music when running.
6) What would be your best qoute or advice for a beginner ?
Best quote for a beginner would be "it doesn't matter slow you run you are still lapping the person sitting on the sofa" , or as Nike would say "just do it."
The best piece of advice given to me was from Rory Longmore who said to me just go slow enjoy it enjoy take in your surroundings cut back on the effort and then you will be able to clock up the miles and build from there. This really helped as up until then I think I was trying too hard and struggling to run any distance, even now I try to keep this in mind and it helps me feel good about my running.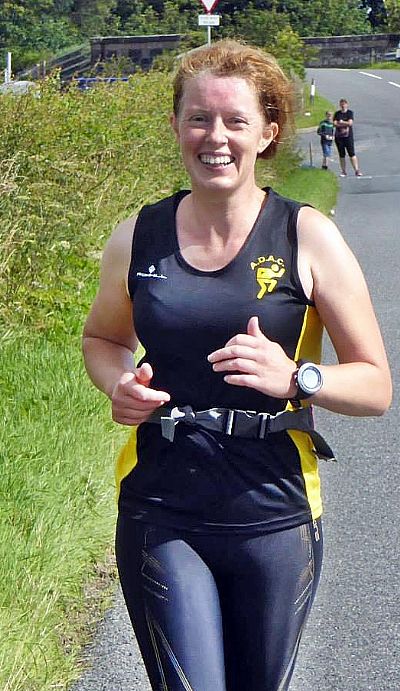 7) What's your ambition ?
Ambition- to do the local half marathons, be able to run up hills well at least some of them, to be able to run a 10k in under an hour and I'm quite tempted by the Mountain Marathon navigation type events
Thanks Yvonne - Happy Christmas everyone !!!
NOVEMBER
Just in time for the month of November our Senior Athlete pofile is someone who many people don't see much of apart from his heels moving further away. He has been in fine form this season and a regular at ADAC races. I give you ........
Rory Longmore.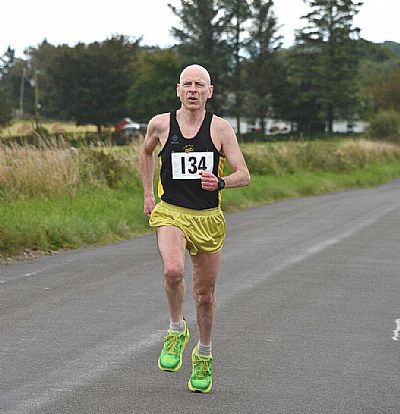 I caught up with him (not easy) to ask him some questions recently.
1. Why did you start running ?
"My career as a sumo wrestler was falling into serious decline – so I needed a different type of competitive outlet."
2. What is your fav. food Rory ?
"Banana Maple Cream Dream" – a delicious piping hot crepe from Eduardo de Souza's mobile creperie, which would periodically turn up in Hampstead High Street during my recording engineer days in London. I'm going back a bit here .. wonder if he's still around."
3. What was your best moment in your running career so far ?
"Sprinting into Wasdale Head, one of England's most stunning mountain locations - with 12 minutes to spare, in my old (yellow) adac vest .. after running 61 Lakeland peaks in under 24 hours, on one of the hottest days in living memory. Supported all the way by wife Linda, who herself went on to achieve the "Bob Graham" circuit of 42 peaks – and a team too large to detail but including mentor and Bob Graham instigator Len Prater, plus Peter Rogerson who I had already supported on his own Bob Graham round, brother in law Glenn Marland (ADAC) - from schooldays till now still one of the most naturally talented distance athletes I have known, Rob Carey of Annan, another ADAC graduate of prodigious talent over ANY distance, ADAC's long distance mountain specialist James Dunion guiding me across a couple of the toughest sections; my father Dr Longmore on first aid duties - and all my other good friends from ADAC and Solway Running club (that means you Dougie Milligan). At the time 61 peaks stood as 4th on the all time list, and I believe is still the best by a Scottish runner."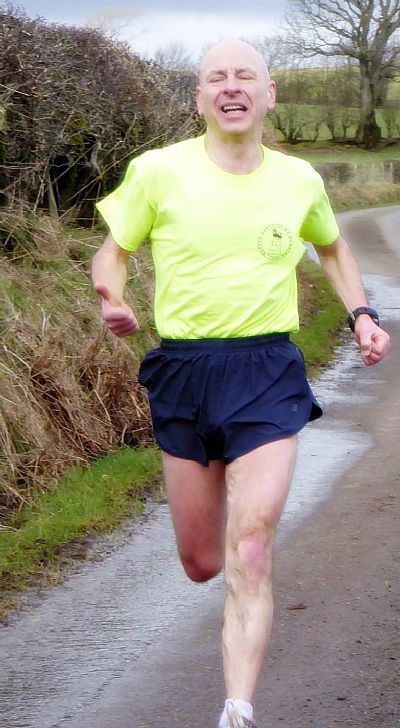 4. And your worst moment ?
"A toss up between the broken collarbone sustained in the Dalbeattie Hardrock Challenge – and the agonising kneecap which kept me out of action for most of 2013 and of course sprinting into Kirkcudbright harbour in the lead at the 1989 Buckland Burn Up race only to be beaten by you on the line" ...................................sorry Rory ;-)
5. What is ADAC to you ?
"ADAC to me is virtually a second family .. a sincere, unpretentious and friendly community of like-minded running nut cases, who will extend the same welcome to raw novices like myself .. as they have done to Olympic, Commonwealth and Scottish Champion runners during the span of my membership. Whatever comes along, these friends are always there to give you a lift. Usually to the next race .. All I can say is "Kudos ADAC".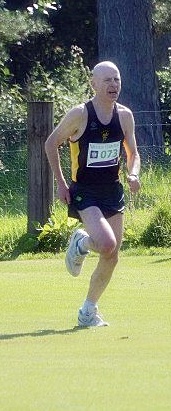 6. You fav. music Rory ?
"Perhaps surprisingly is NOT Dexy's Midnight Runners – but might include JJ Cale "After Midnight" or even the Stones' "Midnight Rambler". But I'll give Steve Forbert the last word "You're on your feet and fine he said, the next dam' day you're old – so gonna rock while I can rock .. and roll while I can roll".
Many thanks Rory.............when are heading back to Kirkcudbright for a remake of that famous day ? ;-)
OCTOBER
The profile section of the website has been taken over this month so that we can celebrate a special milestone for the web-manager, the one and the only Joe 'Jose' Boardman will be celebrating his half centenary birthday later this month.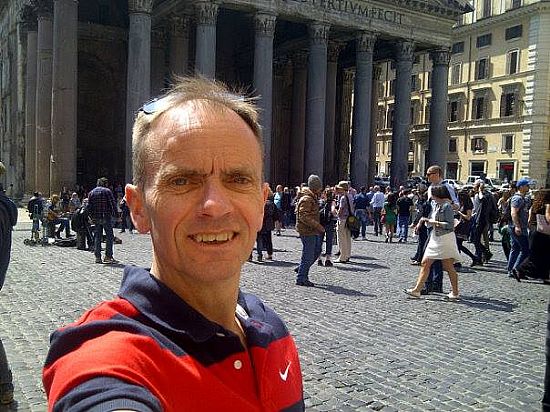 He's partial to a bad pun, but he's always ready to run.
His pace is rather nifty, Crivvens oor Jose's turnin' fifty!
We caught up with him to ask a few probing questions.
Q - Was athletics always your sport of choice?
A - Yes from about 14 - I was rarely first at school as I was quite small and up against bigger lads (nothing has changed I suppose) but I worked hard at it and got my rewards on the track and in XC races - oh and I was tig Champion as well at school. They couldn't catch me, they probably couldn't see me either!
Q - Who are your sporting heroes?
A - In my day Coe and Ovett were the big names. You liked one or the other but I admired both for different reasons - also Lasse Viren, a Finnish long distance runner who won 4 gold medals in the 1972/76 Olympics.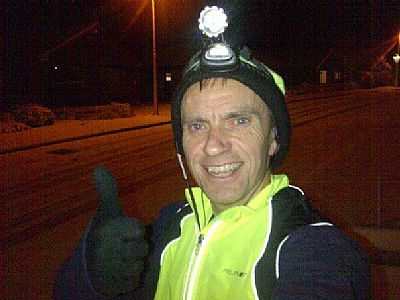 (Joe doesn't like being kept in the dark!)
Q - What is your favourite food?
A - It would be easier to say what I don't like. That would be tomatoes YUK! As for my favourite ... I eat anything that's put in front of me and like it ... a LOT!
Q - Give us your favourite motivational quote
A - Here's 2 that I like (or recite 500 times a day - OK I'm kidding!)
* Don't let the fear of losing be greater than the excitement of winning (Robert Kiyosaki)
* Winners never quit, quitters never win! (Vince Lombardi)
Q - What's the best thing about ADAC?
A - The best thing is that we may have elite athletes but we don't have elite attitudes. Our reputation goes way beyond the district and many people have commented how friendly we are as a group. That's what athletics should be about. It's not just about winning - it's about life long friendships.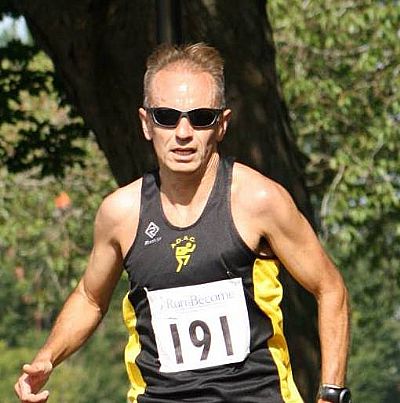 Q - If you could be anyone else for a day, who would it be?
A - Jesse Owens - who despite all of the persecutions against him won 4 gold medals at the Berlin Olympics in 1936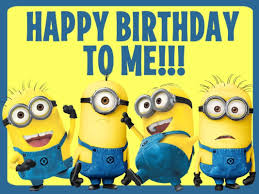 Cheers Joe - enjoy your birthday and here's to lifelong friendships and another 50 years of nonsense! However if you don't like tomatoes you'll never ketchup!!!! (Sorry)
AUGUST
Our August athlete of the month is a person who is often seen leading (or being led by) her two dogs around the training routes which we run on. May I present Ruth Griffith. I caught up with all 3 of them this week to ask a few questions.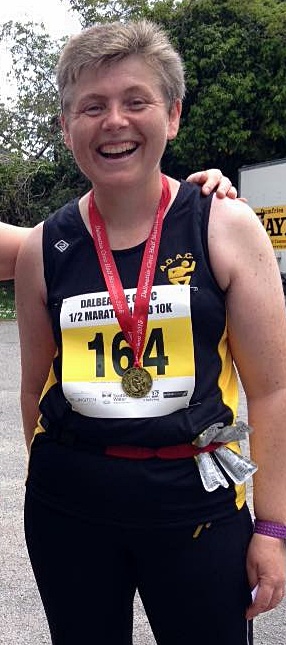 Your favourite food Ruth ?
"Italian and particularly homemade pizza."
When did you start running and why ?
"I have run off and on since I was in my 20s but started seriously in May 2013. I wanted to get fit and lose weight. There is a history of breast cancer in my family and reducing my body fat reduces my risk. I also wanted to provide my dogs, particularly my young dog with regular vigorous exercise."
What has been your best achievement in Athetics ?
"My best running moment was training for and completing the Edinburgh marathon in May this year. My best personal achievement was studying for my social work degree while working full time and managing to stay sane!"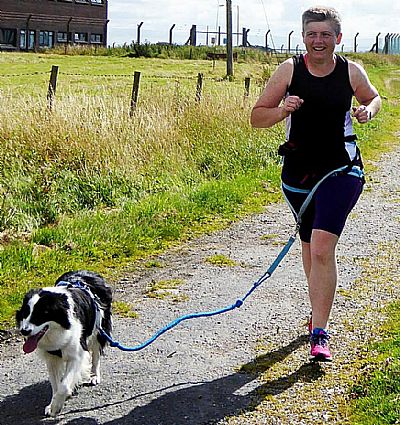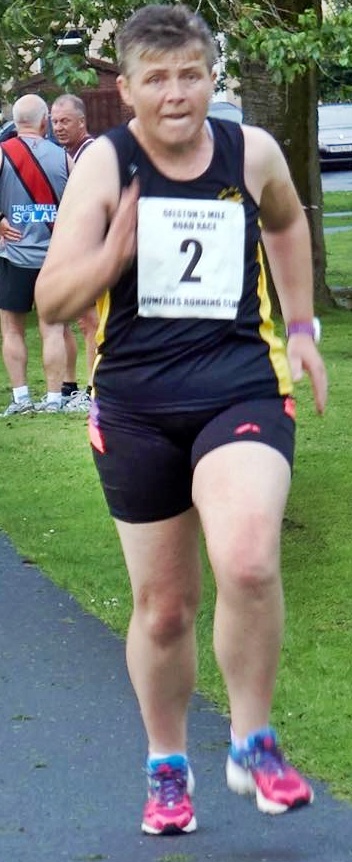 If you didn't run what other Sport would you do ?
"I love mountain biking and would love to be better at it but have fallen off my bike too many times!"
Name the runner you would most like to meet and why ?
"Paula Radcliffe- she had many fantastic achievements and achieved many after having such a heart breaking race in the marathon in Athens Olympics."
Best and worst moment in Athletics ?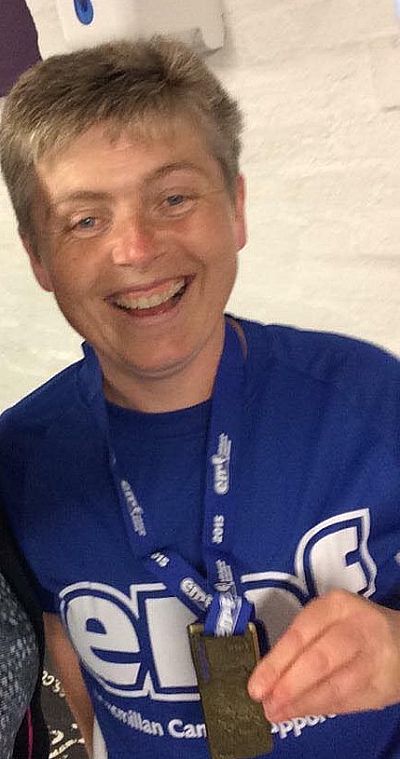 (Ruth pictured after the Edinburgh Marathon with her medal.)
"My best moment was approaching the finish line for the Edinburgh marathon and realising all my training had paid off. Worst moment was a few weeks ago running up Hind hill in Moffat and realising I do not like hill running and then getting bitten alive by midges!!"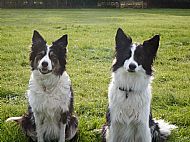 (Lucy and Ollie)
Best quote ?
"Remember to be awesome"
Thanks Ruth !
JULY
This month we feature an athlete who is very familiar to everyone and at present is recovering from a car accident so we all wish him a swift recovery. May I present (Sir) Kev Plummer.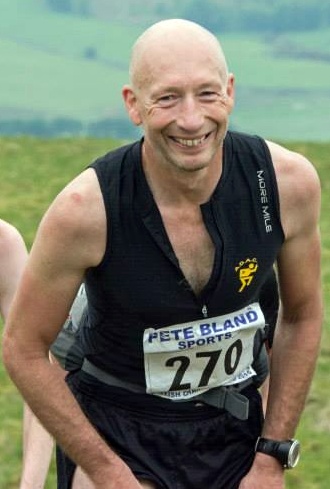 I tracked him down to ask him some questions.

1) When and why did you start running ?
"I guess I started running properly when I moved to Wamphray 8 years ago. Before that I did a lot of gym training and a bit of running. I started to lose weight and also ran for health benefits."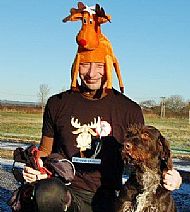 (Kev is a keen deer stalker also)

2) Why do you enjoy it ?
"There are many reasons, here are a couple: Unlike a lot of things in life with running if you work hard you will get improvements. I like the people I meet and the places running has taken me. I have been to places I never would have been to if I didn't run."

3) Fav. food ?
"I like Indian food, but not before a race! I also have a very sweet tooth as Nigel and Janet know so well."

4)Greatest achievement ?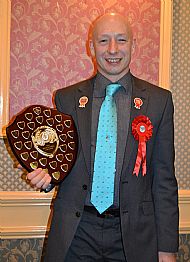 "The Bob Graham of course and getting Louise into running this last 12 months has been great."


5)Best quote.
"Inspiration can come from others but determination has to come from inside you."


6)Fav. athlete and why ?
"Billy Bland, he holds the record for the BG, under 14 hours. Nobody has come close to matching it. When he started running he was a middle of the pack fell runner but he trained like a demon, he never tapered just used to race everything, a fell race mid week followed by a another big race at the weekend. I also admire Beryl Burton the cyclist for winning so many time trials out right beating many men in doing so."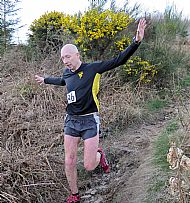 Thanks Kev - wishing you a speedy recovery and you will be flying again soon.
MAY/JUNE
We're "running " a little late so I thought I would combine the month of May and June and as our last athlete was Mrs.K I thought it would be appropriate to have Mr.K (Andrew Kennedy) as our next choice.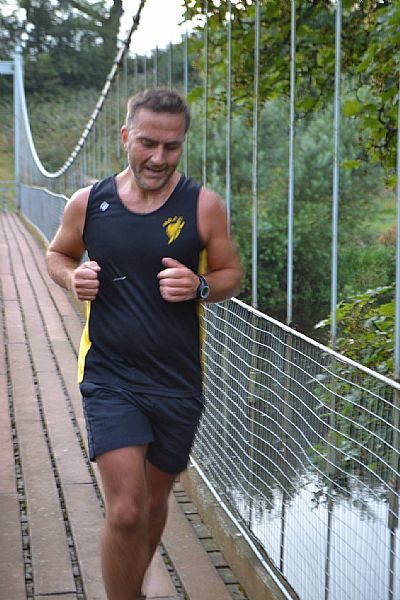 I caught up with him today and asked him all about .................himself !
Here'swhat he said:
1) When and why did you start running ?
"Have been running on and off for 20 ish years but got the bug on holiday in Spain about 12 years ago when Top Cat's big sis dragged me out every other morning. Helped me lose a bit of timber so just carried on and still loving it"
2) Fav. food ?
"So many to choose from but at the moment black pudding and prawns, failing that a good red Thai curry"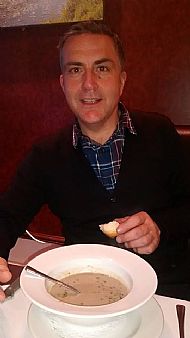 3) Best acheivement ?
"Probably improving marathon time from 3:38 to 3:22 for Edinburgh marathon from 2009 to 2010."
4) Most inspirational athlete ?
" It has got to be Michael Johnson, he doesn't run any distances I like but the way he dominated the sport for almost a decade is incomparable in my opinion".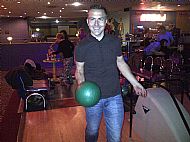 5) What's the best thing about ADAC ?
"Friendly, friendly, friendly, no feelings of inferiority and THE BANTER!"
6) Ambition in running ?
"To better my 3:18 I done for London marathon - but age might be against me"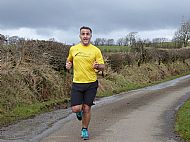 (Never let age be a barrier Andrew ...........Ed.)
Many thanks Andrew - time for some cake ?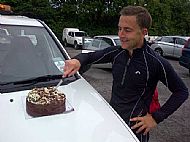 ATHLETE PROFILE
APRIL
Just a little late for the month but this athlete is very much worth the wait.
A very familiar face in our club and someone who has a TOP CATalogue of attendances over the years...........our very own ..............
Nicola Kennedy (a.k.a. TOP CAT)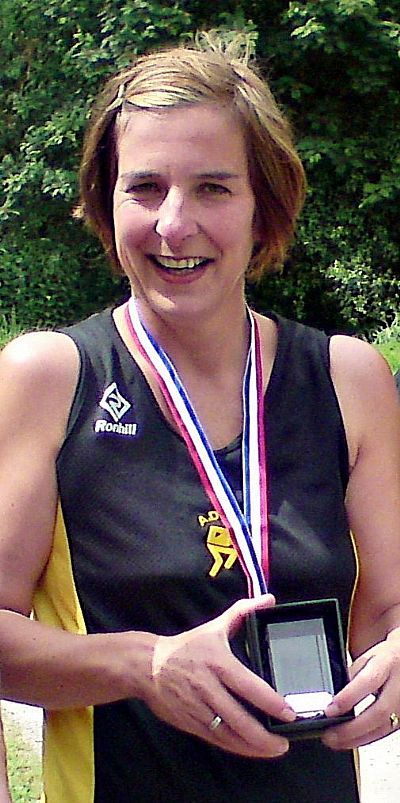 We asked Nic some questions about her running and "nickname". Here's what she said:
1. What is your fav. food ?
My favourite food is seafood especially in Spain !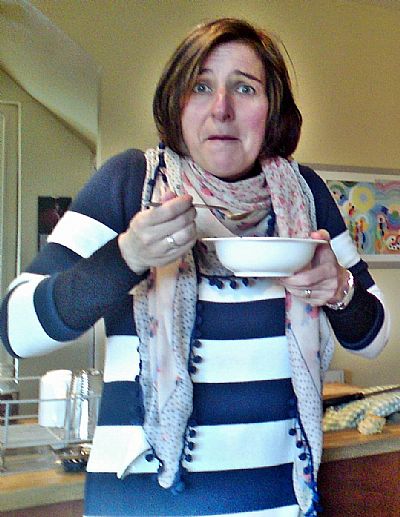 2. Why did you start running ?
To lose weight and was encouraged to run with club through caza. Started doing the odd run with Andrew (Mr.K).
3. What do you feel has been your best achievement ?
My best achievement is the Edinburgh half marathon and the one that I felt the most fulfilled doing.
4. If you weren't a runner what other Sport do you think you would be doing ?
I really enjoyed netball at school although I also enjoy swimming.
5. Name the athlete you would most like to meet and why.
Jessica Ennis because she is really inspiring and a wonderful athlete.
6. What has been your best and worst moment as a runner ?
Best moment was Edinburgh half also the Hightae run a few years ago.
Worst moment- well there have been a few but possibly one of the Doctors runs.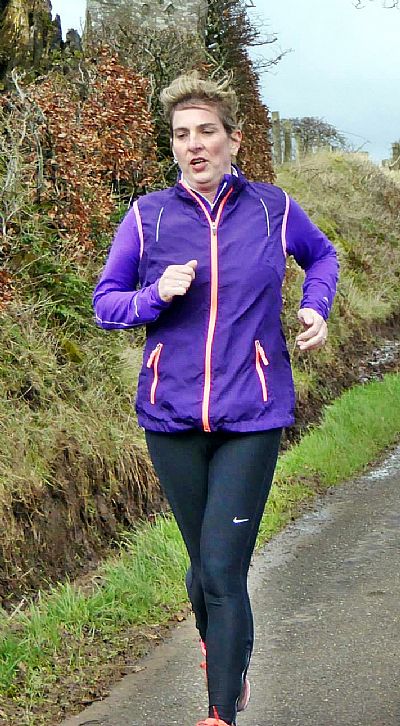 7. Your best quote ?
"Where's the toilet ?"
"That's why they call me t.c." (Top Cat)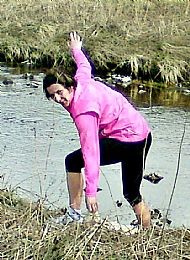 (Nic tries out her swimming technique during a recent run)
Thanks T.C.
ATHLETE PROFILE
MARCH
Well we are back with another profile this month and a chance to catch up with a man who just doesn't know when he is beaten. (Take that from me- I have been on the wrong end of his fine performances in the past).
Andy Render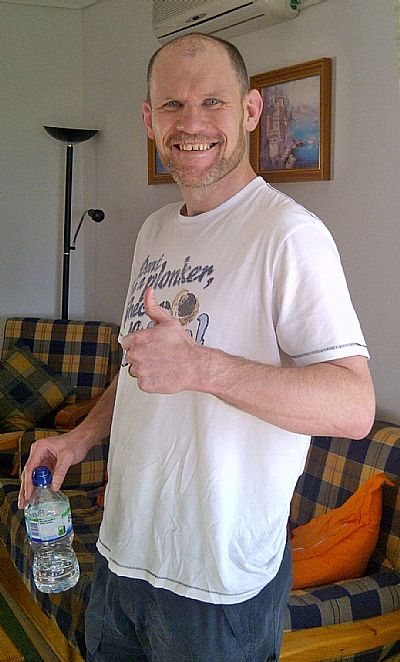 1. Fav food ?
I really like slow cooked lamb or good Italian style dishes like pasta or risottos. But really I'll more or less eat what's put in front of me!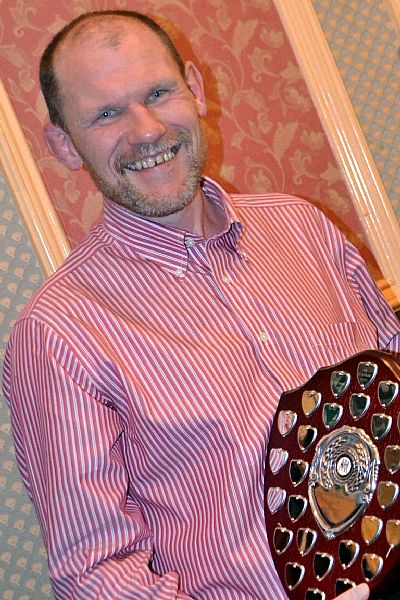 2. When & why did you start running ?
I stopped playing rugby about 9 years ago and ending up putting on weight (see Q1), so started running around a year later.

3. Best achievement ?
In running it has to be winning 2013 summer champs; in other sport I'm quite proud of the three player of the year awards with Annan rugby club.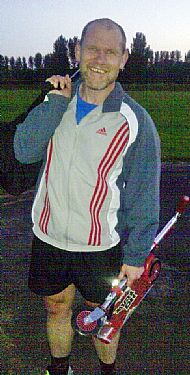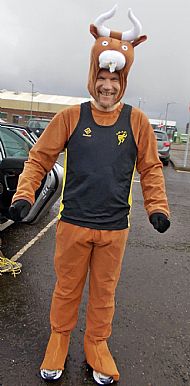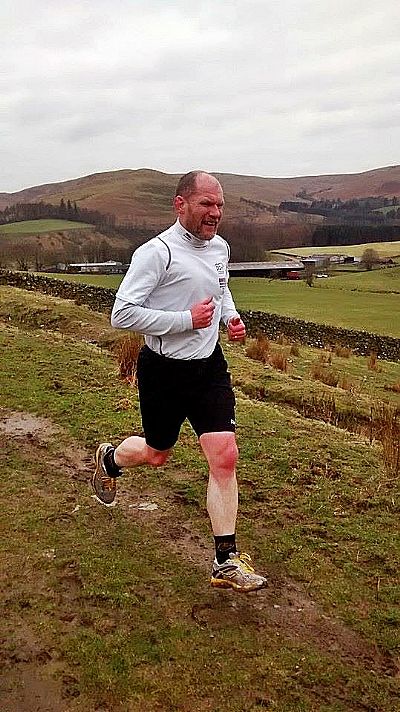 4. Heroes ?
My first hero was Colin Deans who played hooker for Scotland and I was a huge fan of Brian O'Driscoll. In running it would be Steve Cram or Mo Farah and of course Mr ADAC - José Boardie! (cheque in the post Andy)

5. Your best advice for athletes ?
Build slowly, set short term goals, record progress and get good trainers.

6. Best Quote ?
"To be number 1 you've got to train as if you are number 2"
Many thanks Andy - now have a wee rest !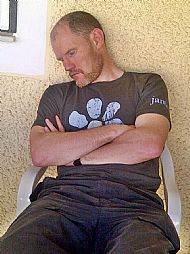 JAN/FEB 2015
Sorry folks I've been busy but this Athlete is such an important person I think she deserves a 2 month page.
May I present the one and only ..............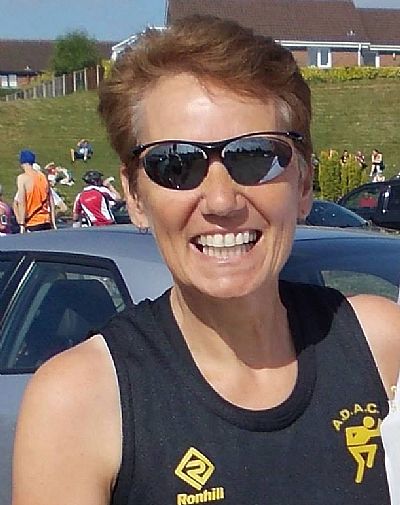 Caroline (Cazza) Legg.
I caught up with her and asked some questions recently and you can find out more below.
1)When and why did you start running ?
I started running in 1991 like most women to try to lose a bit of weight . I loved running when I was at school and had run in the regional x country champs . I wasn't the best but always finished in the top half of the field but I always felt the distance wasn't quite far enough for me. I was surprised to find that after 15 years of no running I was able to run for 10 minutes without stopping. Within 6 weeks I ran in the annan 6.75 mile road race and ran under an hour. That was me hooked !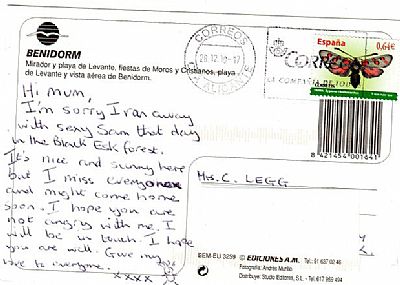 (Postcard sent from Cazza's runaway Voodoo doll back in 2012 and who is now living in southern Spain.)
2. What are your best achievements ?
My best achievements In road running I feel have been completing 5 marathons but my best ever run I feel was a 3000 metre track race where I smashed my pb from 11.31 to 11.12 18 seconds might not seem a lot but to me it was a huge leap and I won the race as well as beating all but 1 of the under 17 boys.
3. Favourite food ?
My favourite food is cheesecake I love it.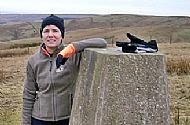 4.What is the best thing about ADAC ?
I love the friendliness of Adac and the support we all give each other.
5. Best quote ?
Never say never !
Thanks Cazza.............you're an ADAC legend !
DECEMBER

Who better to have as our Christmas Athlete profile than the one , and only, Master Jim Buchanan - local legend and inspiration to many of us. Jim has , over the years proved to be an outstanding athlete and one who you know will beat anyone's Age grade %. José tracked him down (it wasn't easy) and asked him some questions about his running career.

1) When did you start running ..............and why ?
Started running in 1982 following the realisation that I was totally unfit following the embarrassment of being run off the court at a social badminton evening against people much older than myself.

2) Fav. food ?
Tagliatelli with Margaret's own sauce
Apple Crumble and lots of Custard
Flap Jack by Caroline
Tablet by Louise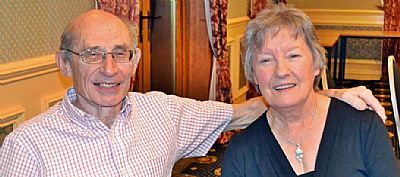 3) Most inspirational athlete ?
Eric Liddell, who won an Olympic Gold for 400 metres in 1924. He was only 22 and there's no saying how far he could have gone had he continued with his running carreer in preference to devoting his life as a missionary in China. Prior to running he represented Scotland at Rugby Union.
4) Proudest moment in sport ?
Very simply the greatest thrill I have had was back in 1982, when after a number of weeks jogging no more than a mile I, one day managed to run round the Barnhill route (4.16 miles) non stop ……. I had a job getting to sleep that night….. couldn't believe I could manage that! I realised then that I wanted to develop and continue my running.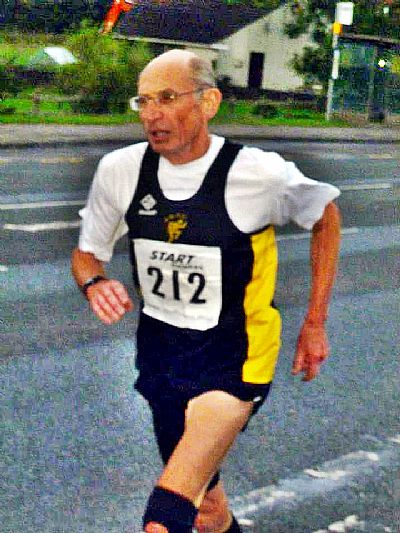 5) Complete the phrase........"I'm happiest when............"

I am happiest when I am injury free and able to run without the fear of causing problems.... seems I haven't been happy for a while! Never mind I have settled in with the Maffatone programme, whether it will work at my age? I'll wait and see but worth a try.

6) If you could change anything in your running career what would it be ?
I wish I had started running seriously much sooner. I ran occasionally during National Service but only when I couldn't get playing football….. football was my life in my young days.
Many thanks Jim and Happy Christmas !
November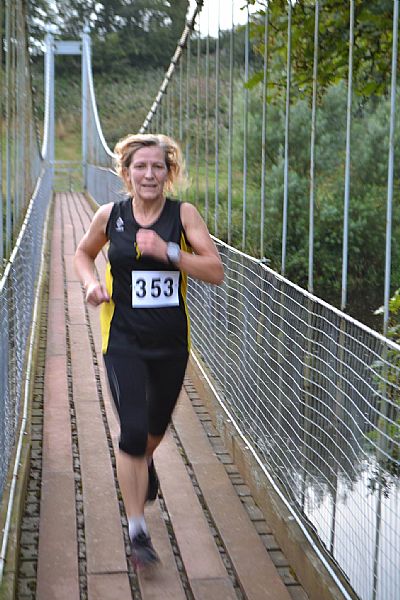 This month we feature an athlete who is well known for some gutsy performances over the years with an all improving age grade percentage which has put many of us to shame. It is our very own Liz Dawson.
José caught up her (just) on her overseas tour of Spain recently and asked her some questions.
1. When and why did you start running ?
I started running when I was 40. I had set myself a 40th birthday challenge to complete the Moffat Hill Race and immediately hung up my trainers afterwards. This was the pattern for several years only running a few months before the race. I used to be a fair weather runner and I have Jim Buchanan, our guru to thank who encouraged me to join ADAC.
I started running to keep fit, manage stress and to keep weight down. From being a fair weather runner to running with head torch is a great achievement for me. This year I decided to face my demons!! The dreaded hills and have been amazed how much I have enjoyed these.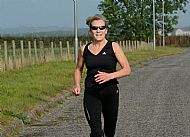 2. What are you personal goals?
To continue entering hill races and to do more off road running and hopefully cross country. Also to enter more races away from home in foreign parts as part of José International Running Tours ;-)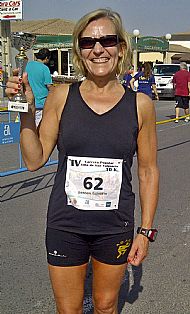 3. What is your best acheievment to date ?
Best achievement is completing 2 hill races this year and getting prize for age group at Manor Water Hill Race. Personal best for Kirkcudbright half marathon.
4. Which athlete do you admire the most ?
The athlete I admire most is our own Mr Jim Buchanan he is an inspiration and proves that age is no barrier. I have him to thank for motivating me and encouraging me to become a member of the friendliest and best running club in the South of Scotland.
5. Favourite food ?
Chicken , also liquorice all sorts especially after a run. As our own Mr Parry would say "food for champions".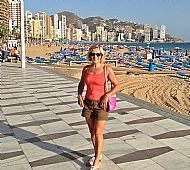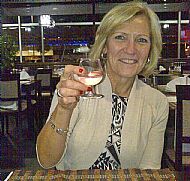 Cheers Liz.
October
Our athlete profile for October is a relative newcomer to Athletics- John Parry. José went to great lengths to catch up with him in sunny Spain whilst on holiday to ask him some questions.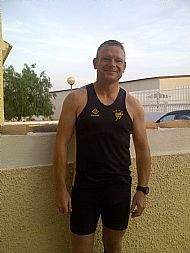 1) How long have you been running?
Approximately 1 1/2 years but with ADAC competitively since last November. My first race was Wamphray Glen.
2) What is your occupation?
I'm a Police Officer with Police Scotland. Currently stationed within the traffic dept Lockerbie.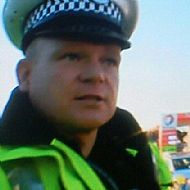 3) What is your favourite food?
My favourite food will have to be hot curries! Good for the people to
the front of me but not so good for the people behind ;-)

4) What is your best quote ?
I have a lot of great quotes but if I had to choose my best it would have to be:

If you think you are beaten, you are
If you think you dare not, you don't,
If you like to win, but you think you can't It is almost certain you won't.

If you think you'll lose, you're lost
For out of the world we find,
Success begins with a fellow's will It's all in the state of mind.

If you think you are outclassed, you are
You've got to think high to rise, You've got to be sure of yourself before You can ever win a prize.

Life's battles don't always go To the stronger or faster man, but soon or late the man who wins Is the man

WHO THINKS HE CAN!

5) What is your favourite sports team ?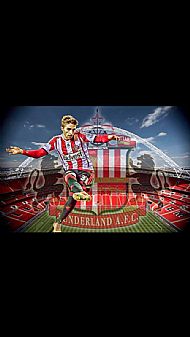 For my sins my favourite sports team would have to be Sunderland AFC I've always supported them and being born in 1973 when we won the cup firms up my love for football.

6) What is your best achievement so far as a runner ?
My best achievement so far would have to be if perfectly honest being up there with the best of ADAC in such a short time of my running career.

7) What is your ambition in Athletics?
My ambition is to be club champion one day. (One can dream)

8) What age are you?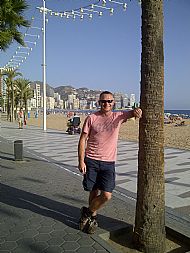 I'm 41yrs old but don't feel it. You really are only as old as you feel.
Thanks John.
September
We continue our Senior Athlete profile this month with a very popular lady - our own Janet Priestley.
José caught up with her this week and asked her some questions. Janet is a newbie to running and after many years waiting on her husband Nigel to come home for dinner one day she decided enough was enough and put her own trainers on. José also asked her the folliwing questions:
Age: "How dare you, I'm a lady!"
Occupation: Cashier in Solicitors office.
Favourite snack: Cheese crisps.
Started running: About 4 years ago to get fitter to do a walking holiday on the tour of Mont Blanc .
Best performance to date: Langholm Half marathon Trail Race.
Favourite event: No one in particular but loves doing the recce runs great fun with no pressure.
Athlete you admire : Jim Buchannan – age is NO barrier.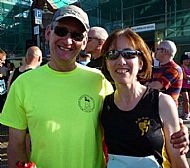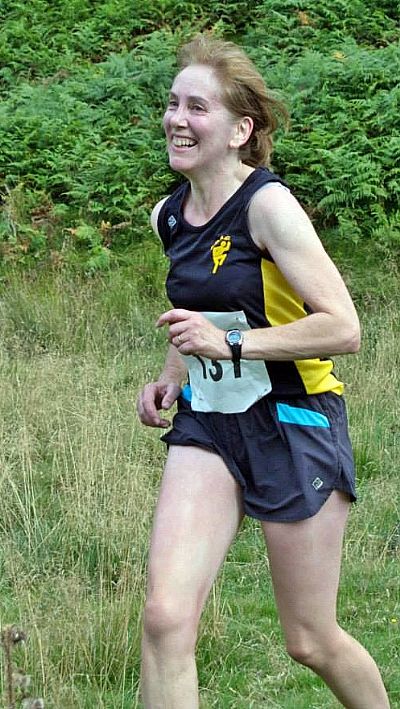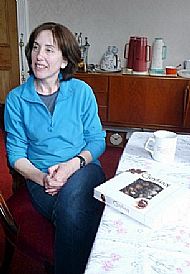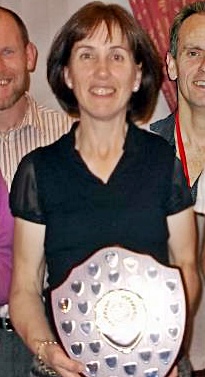 Thanks Janet for being a good sport and also for those post run Jelly Babies ! Can't beat them !
August
We caught up with our very own Gordon Vivers this week and asked him a few questions. Godron is a regular at ADAC and has the reputation of being a funny guy especially when he and José (AKA ed.) get together. He rarely misses a race and sometimes does 2 in one day. Next time you see him you will know a little more about the man behind the red suit !
Nicknames: Gordy , Rrrrrrramos , Gory ,Rordy (But don't ask why).
Age :56 Really? YES !!!
Running since:2006
Occupation: Motorway maintenance foreman & retained firefighter.
Favourite food: Lamb chops (yum yum !)
Favourite distance: 10 miles (as long as he goes the right way) Best time 63:10
Best achievment so far: Sub 40 minutes for Dumfries 10km (2012)
Favourite Sports team: Celtic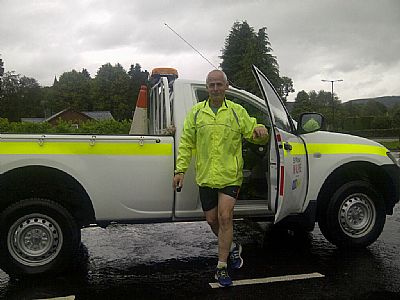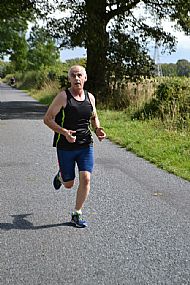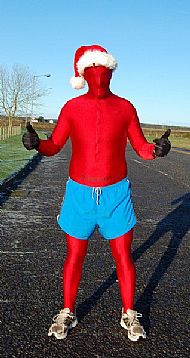 Thanks Gordy !
Next month it could be you !